POSTED December 6, 2022
3 gifts to help children access basic human rights this holiday season
As the world marks Human Rights Day this month, Children Believe is committed to helping make positive change through our Gifts for Good catalogue
By Brianne Binelli, digital content services manager, Canada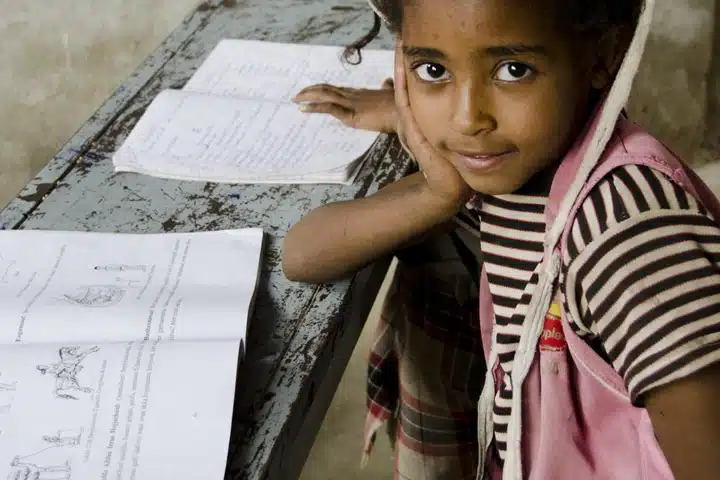 Dignity, freedom and justice for all is the theme of Human Rights Day Saturday, Dec. 10. It comes at a time in history when vulnerable people around the world are facing serious roadblocks to creating lasting positive change in their lives.
"New human rights challenges are emerging from the triple planetary crisis of climate change, biodiversity loss and pollution. And we are only beginning to grasp the threat posed to human rights by some new technologies," says António Guterres, secretary-general to the UN.
He adds: "I urge member states, civil society, the private sector and others, to put human rights at the heart of efforts to reverse today's damaging trends."
At Children Believe, we're committed to ensuring all children and youth can access their basic human rights, from good healthcare, clean water and nutrition to the right to access quality education without facing harmful traditional practices, such as early, forced marriage.
This holiday season, you can help by supporting our Gifts for Good catalogue. It gives children, youth and families hope for a better tomorrow. Below are just three gifts that support human rights.
Local conditions, such as drought and conflict, can cause food shortages, leading to a frightening increase in malnourished children and expectant mothers. Your gift will provide lifesaving supplementary food to children who need it most.
Provide clean water where it's needed most, helping the vulnerable — often women and children — get the resource they need to survive and thrive.
Today, more than 100-million girls worldwide are out of school. Girls with no education are three times more likely to marry before they turn 18 than those who attend secondary school or higher. This scholarship gift, which sends a girl to school for a year, is life-changing. What's more, its value is multiplied by our giving partners for 5X the impact.
Find out more about how Gifts for Good can help children access their basic human rights today.
Children Believe works globally to empower children to dream fearlessly, stand up for what they believe in — and be heard. For 60+ years, we've brought together brave young dreamers, caring supporters and partners, and unabashed idealists. Together, we're driven by a common belief: creating access to education — inside and outside of classrooms — is the most powerful tool children can use to change their world.
About ChildFund Alliance:
A member of ChildFund Alliance, Children Believe is part of a global network of child-focused development organizations working to create opportunities for children and youth, their families and communities. ChildFund helps nearly 23-million children and their families in 70 countries overcome poverty and underlying conditions that prevent children from achieving their full potential. We work to end violence against children; provide expertise in emergencies and disasters to ease the harmful impact on children and their communities; and engage children and youth to create lasting change and elevate their voices in decisions that affect their lives.