POSTED August 17, 2017
A learning model is inspiring growth through creativity in India
CCFC is working with teachers in creative learning centres to open new doors to education
By Lipi Jobson, CCFC communications manager, India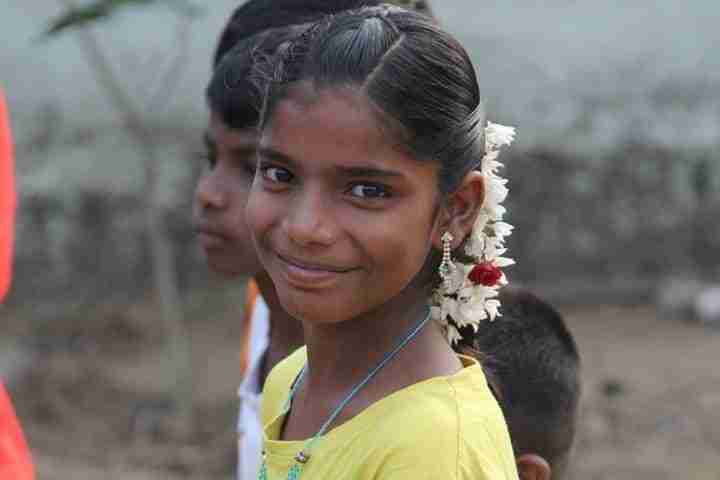 Children crouch on the floor in two groups searching scattered letters to try to make a sentence using as many words as possible. Swathi (pictured), an outgoing 10-year-old with a huge smile, cheers on her team. "Sikiram! Kanupudi!" (Fast! Find it!"), she shouts.
The activity is not one you see often in schools in India where memorization and repetition fill most hours. Nor are the activities that follow: drawing, singing and sharing poems and proverbs. Even the teaching materials are different, with puzzles to learn languages and hip-hop games to learn math.
The classroom is one of more than 85 creative learning centres in India our supporters champion for children aged six to 16. In addition to a regular curriculum focused on math, science and spelling, each after-school program offers sports, dance and the arts to encourage children to analyze, evaluate, question and, most importantly, create and innovate.
It's a remarkable achievement. It's changing the way children see the world — and themselves.
Many of the 3,200 children attending the creative learning centres are the first in their family to go to school, and parents, like Swathi's mom, are seeing what a difference it can make.
"She is allowed to follow her passion," says her mom. Swathi is quick to chime in: "The centre helps me think differently, focus on my goals and gain more knowledge. It helps to shape my career in teaching. The students who struggle in regular class learn the same subject easily here."
A little spark of inspiration can turn the ordinary into the extraordinary. Who knows what Swathi, and the 3,200 children who attend, might grow up to achieve.
Children Believe works globally to empower children to dream fearlessly, stand up for what they believe in — and be heard. For 60+ years, we've brought together brave young dreamers, caring supporters and partners, and unabashed idealists. Together, we're driven by a common belief: creating access to education — inside and outside of classrooms — is the most powerful tool children can use to change their world.