POSTED August 23, 2018
A special visit builds an extraordinary bond
A program expert working with our local partner tells us how sponsors make children's dreams come true
By Angelina Enciso de Miranda, general coordinator, ONG Crecer (CCFC partner)
I see people share their dreams every day — dreams that sometimes seem unattainable. Yet, as the general coordinator for ONG Crecer, a Christian Children's Fund of Canada (CCFC) implementing partner, I hear from so many families realizing their dreams thanks to CCFC sponsorship programs in Paraguay. They now understand it's their right to grow safely and live up to their full potential.
A huge part of that confidence comes from sponsors. So, it's a joy to see how a sponsor visit from Canada to one child makes the entire community feel closer as they see the connection built through letters grow into a cherished relationship.
That's been the case for Marcos and his family. This year, they were shocked to hear Marcos' sponsor, Sir Sean Madsen, would be visiting them for the second time. "So, I am important to him," said Marcos when he heard, eagerly adding: "Is he bringing [his guide dog] Sammy? How long he will stay?"
Filled with surprise and emotion, his mother María said: "He kept his promise to visit us again."
I've seen how a stranger with a goal to do something important in the life of a child has become a special person to the entire family.
I was there for the first and second visit, and I saw how everything had changed since the first time they met. By the second visit, Marcos spoke more, was learning English, had greater confidence and was excited to introduce Sean and Sammy to his friends and teachers at school.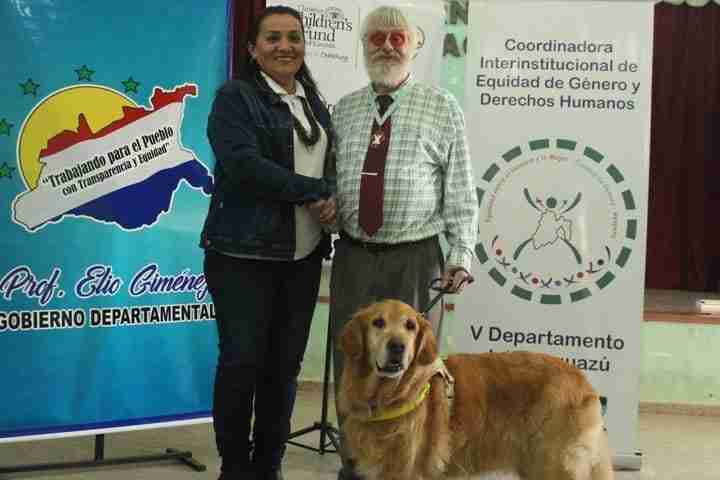 I spoke to Marcos' mom recently and she fondly recalled the joy she felt during the visit and for her son who is more passionate than ever about reaching his dreams. "Marcos said he will fight to get ahead as he promised Mr. Madsen, and he will not disappoint — he will fulfil his dream of becoming a lawyer," she told me, adding how she can't believe how much love was shown to her son.
And, the visit with Marcos wasn't the end of Sean's visit to Paraguay. He also met local and departmental authorities and other key Paraguay representatives. He shared his experiences as an activist for people with visual disabilities, making clear we can remove obstacles if we collaborate so all people can develop their potential.
It's a message that speaks to the goals at CCFC and ONG Crecer. Together with supporters and local communities, we're building strong child-centred development programs in two country departments, impacting more than 3,500 children in the sponsorship system and approximately 17,500 people overall.
Young people have been my greatest inspiration in my personal and professional journey. So, when I see people like Sir Sean help make children's dreams come true, it encourages me to continue believing we can change lives one small gesture at a time.
Sponsor a child today. Click here to learn more now.
Angelina has been engaged in community development programs for CCFC for more than 20 years. She's been leading ONG Crecer, a local CCFC partner organization, since 2015, helping vulnerable communities become self-sustaining. ONG Crecer is CCFC's partner for four programs.
Children Believe works globally to empower children to dream fearlessly, stand up for what they believe in — and be heard. For 60+ years, we've brought together brave young dreamers, caring supporters and partners, and unabashed idealists. Together, we're driven by a common belief: creating access to education — inside and outside of classrooms — is the most powerful tool children can use to change their world.