POSTED February 28, 2023
How Black History Month highlights a need for educational quality
Meet people who have been campaigning to tell America's complete history in classrooms
By Mona Ghali, technical advisor – Education, Canada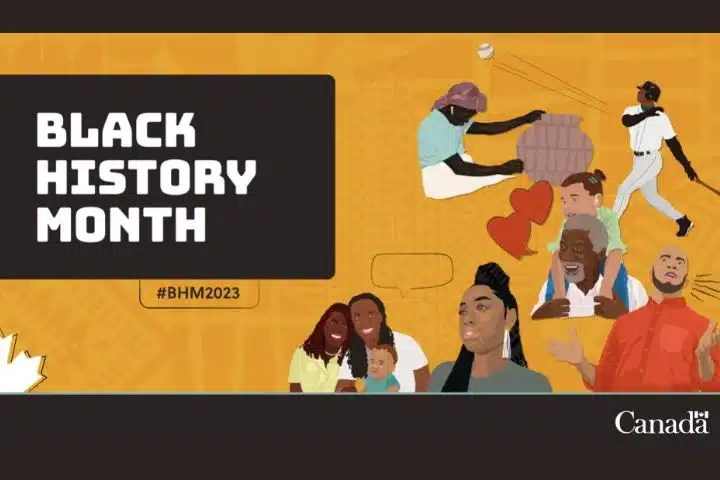 Black History Month (BHM) provides a moment to reflect on our work, present and future. We operate in three Black majority countries, including Burkina Faso, Ethiopia and Ghana. 
And, as Children Believe is committed to educational access, quality and equity, we recall it has been a central feature of emancipatory movements. Glimpses of the meaning of "quality" are found in Black history.
How has the idea of sharing Black history evolved since the Civil War?
Ghana was a transit point for the slave trade and is also notable for its leadership in the Pan-Africanist Movement. It's where the Black American intellectual-activist W.E.B. Du Bois self-exiled and is buried.
Du Bois wrote that the problem with America is the "colour line." This line, which separates and ranks people based on racial features and validated with "scientific moonshine," has contributed to racial inequality and systemic discrimination.
During the post-Civil War reconstruction era, activists such as Du Bois endorsed academic education as the most appropriate investment for free Black men and women.
Then, during the 1960s, "decent education" was one of the demands of the Black Panther Party as expressed in its "Ten-Point Platform."
Contemporary movements to decolonize education, such as #CurriculumSoWhite in Africa, demand the inclusion of African knowledge systems in higher education.
These historical and ongoing emancipatory struggles recognize education systems can reproduce racial hierarchies and discriminatory practices within formal and hidden curricula. But, they can also express resistance and fugitivity.
When did Black History Month begin, and how did it precipitate change?
In Canada, the Ontario Black History Society petitioned the government to formally recognize BHM in 1993. Two years later, the House of Commons passed unanimously a motion declaring February as BHM.
Years before, Carter G. Woodson conceived Negro History Week in 1926, now commemorated as Black History Month. He chose February as it marked the birth of Abraham Lincoln and social reformer Frederick Douglass. The US government formally recognized BHM in 1976.
Woodson was the son of former slaves, a schoolteacher for 30 years, the second Black American to hold a doctorate degree from Harvard University (following W.E.B. Du Bois) and a co-founder of what is now known as the Association for the Study of African American Life and History.
As a schoolteacher, Woodson recognized the omissions of Black histories in textbooks that dehumanized Black lives. As a historian, he authored school textbooks to counter the "mis-education" of Black Americans.
Jarvis Givens, Woodson's biographer and Harvard professor, writes about teachers like Tessie McGee who drew on Woodson's texts to practice what is termed as "fugitive pedagogy." McGee conveyed stories of enslavement, oppression, rebellion, escape, achievements and contributions of ancient civilizations —
narratives and concepts forbidden by the state's all-white department of education and local school boards.
While McGee kept the official curriculum displayed prominently on her desk to deflect suspicion, she read aloud to her Black students from Woodson's textbooks of African-American history that she kept on her lap. When someone entered the room, she switched back to the formal curriculum.
In retelling these narratives of fugitivity, Givens provides a deeper understanding of a crucial component of educational quality — namely teaching and learning that renders self-knowledge. With self-understanding and shared knowledge, individuals, groups and allies can resist racialized discourses used to justify the expropriation of land, exploitation of labour and other oppressive acts.
How will today's data-driven world influence race discussions in the future?
Givens' message is not confined to the past; it has implications for teaching and learning with the integration of data-driven artificial intelligence (AI) in education systems as exemplified by apps like ChatGPT.
Since responses generated by AI depend on training, education providers must address linguistic, cultural and political biases in the data-driven systems. This means supporting knowledge systems from racialized and minority groups whose narratives have historically been marginalized or made invisible.
In the absence of pluralized knowledge systems, a data-driven world could reproduce knowledge that's detrimental to the well-being of persons whose lived experience does not conform to dominant mode of thinking and being.
Being invested in delivering quality education, Children Believe understands that anti-racist and anti-oppressive pedagogies are necessary if communities are to counter biases that contribute to unequal relations based on race, class, ethnicity, caste, disability, gender  and other dimensions, supporting more equitable learning outcomes.
Interested in learning more? Check out Fugitive Pedagogy: Carter G. Woodson and the Art of Black Teaching by Jarvis R. Givens.
Children Believe works globally to empower children to dream fearlessly, stand up for what they believe in — and be heard. For 60+ years, we've brought together brave young dreamers, caring supporters and partners, and unabashed idealists. Together, we're driven by a common belief: creating access to education — inside and outside of classrooms — is the most powerful tool children can use to change their world.
ABOUT YOUTH EMPLOYABILITY CLOSING THE GENDER GAP IN YOUTH EMPLOYMENT IN NICARAGUA (EMPUJE) :
The $7.3-million Empuje (Youth Employability: Closing the Gender Gap in Youth Employment in Nicaragua) initiative is a five-year project designed to improve the well-being of 12,000 youth (60 percent women) in nine provinces of Nicaragua. Children Believe is leading the project in partnership with local partners and INATEC with funding from Global Affairs Canada. The project aims to increase access to life skills and professional skills-training among youth, so they can identify, gain and retain employment; gain awareness of gender equality in accessing and identifying non-exploitative job opportunities; as well as improve opportunities in engaging youth, especially women, in dialogue and consultations with potential employers and/or employment services.
About ChildFund Alliance:
A member of ChildFund Alliance, Children Believe is part of a global network of child-focused development organizations working to create opportunities for children and youth, their families and communities. ChildFund helps nearly 23-million children and their families in 70 countries overcome poverty and underlying conditions that prevent children from achieving their full potential. We work to end violence against children; provide expertise in emergencies and disasters to ease the harmful impact on children and their communities; and engage children and youth to create lasting change and elevate their voices in decisions that affect their lives.