POSTED May 11, 2023
Caught up in a conflict
Efrata was just 14 years old when she was forced to leave her village in northern Ethiopia because of the growing civil conflict in her community. This is her story.
By Gezahegn Gebremariam, Children Believe Ethiopia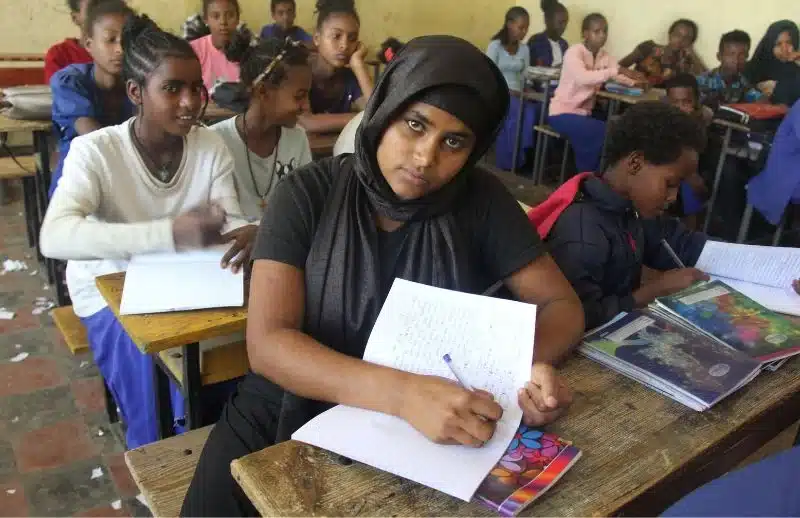 The "Girls-7" Series: Efrata in Ethiopia
Seven girls overcoming discrimination, deprivation and even danger, in seven different places. They share a common courage: to dream fearlessly in the face of adversity. They are examples of the importance of education, which offers a lifeline to safety today and the hope for a better future tomorrow, for both them and their community. This month in response to the G7 summit, Children Believe is calling on global leaders to create greater educational access for girls as a key solution to many major global challenges, not a problem to be fixed.
Sitting in her classroom, studying diligently and actively engaging with her classmates and teacher, it's hard to imagine the terrible tragedies Efrata has faced in her young life.
With the conflict intensifying, her parents thought it would be safer to live with her brothers in another town, but she didn't escape the dangers of war, as her brothers were soon killed in the conflict.  Traumatized, she was then taken in by her sister and unable to go to school because they couldn't afford extra fees such as transportation, registration and uniforms.
"For me, life had no purpose, and I had given up," she says.
But now Efrata has begun to rebuild her life after her situation had become known to the team at the PlayMatters, an emergency response project designed to protect and restore the education of children living through conflict.
Efrata received psychosocial support and academic resources funded in the project and has begun a new chapter in her life by resuming her Grade 8 studies.
"This has restored my hope — my hope to learn, progress, and transform my life," she explains. "Because I've always had a strong interest in learning, (being able to go back to school) helped me picture my future."
Millions of children have been affected by conflict in northern Ethiopia, with seven million needing protection and access to quality education. Along with thousands of deaths and injuries due to the conflict, people often face sexual violence, malnutrition, illness, and the loss of their livelihoods.
The project has assisted thousands of conflict-affected children with psychosocial support, safe learning spaces and much-needed facilities with clean water. Children have also benefitted from preschool play materials, proper nutrition, and 'dignity kits' for girls for personal hygiene.
The PlayMatters (ERM) project is implemented in partnership with International Rescue Committee, Plan International and Children Believe, with the financial support of the LEGO Foundation.
The critical need for education
The latest research shows that 222 million children and adolescents affected by emergencies and protracted crises are in urgent need of education support. Children, especially girls like Efrata, have the strength and resiliency to overcome the darkest challenges in order to dream fearlessly and build a new future. Children Believe is part of a global movement asking for Canadian and global support at the G7 summit to help 40 million more girls gain access to education.
Learn how you can help empower more children like Efrata to not just survive, but thrive.
*name changed to protect her identity