POSTED September 27, 2016
CCFC's field leaders share their stories
A special event at Christian Children's Fund of Canada shows donors the impact of their support
By Brianne Binelli, online content manager
MARKHAM, Ont. — Children's lives are being changed — that was the heart of the message at a special meet-and-greet with donors and Christian Children's Fund of Canada's country-office leaders last night in Markham, Ont., the home base of the organization benefiting approximately 400,000 children and their families.
"We appreciate you and appreciate your generosity," began Swaleh Karanja, country director for the Nicaragua office, upon welcoming the roomful of supporters. He explained how his team has transitioned youth from gangs and drugs to learning a trade and attending higher learning. Now youth are telling youth: "You don't have to be involved in gang violence; there's another way."
Lavanya Kesavaraj, program manager for the India office, talked about a Transform Communities project, which has positively influenced hundreds of lives in eight months in the rural community of Surangudi. "Twenty-five percent of the women from this village … had to walk a kilometre to fetch water, and access to water would be for one hour," she explained, adding how many children and adults were affected by illnesses as water they fetched was often dirty. Thankfully CCFC, and the town council, installed water tanks and 200 households are already benefiting.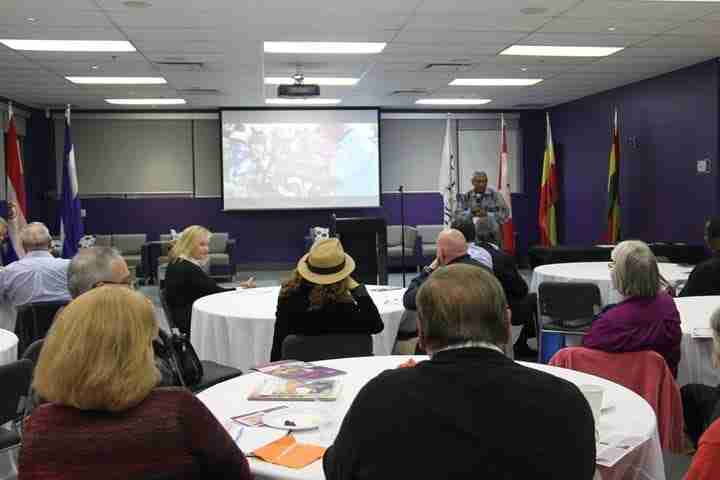 Jorge Mendez, country director of the Paraguay office, showed the crowd how CCFC positively transformed a school by renovating it, providing training to teachers as well as parents, among other initiatives. "It's very hard to express the good you're doing for our children," he said. "The children of Paraguay, and their families and their communities are really grateful."
The stories continued one after the other, with each speaker sharing their experiences and passion for the cause, including Dr. Feleke Tadele from Ethiopia and Jeremie Ouangrawa from Burkina Faso. That passion was also felt online, as the event streamed live through Facebook, ultimately being viewed 400 times.
Stay tuned to CCFC's Facebook page for more live feeds, showcasing the impact donors are making in the lives of more than 40,000 sponsored children.
A night to reflect: (above) Country directors, (from left) Jorge Mendez, Paraguay; Swaleh Karanja, Nicaragua and Dr. Feleke Tadele, Ethiopia joined with (second from left) Abebaw Assefa, former interim director of the Ghana office and director of operations in Canada, for a meet-and-greet with donors
Children Believe works globally to empower children to dream fearlessly, stand up for what they believe in — and be heard. For 60+ years, we've brought together brave young dreamers, caring supporters and partners, and unabashed idealists. Together, we're driven by a common belief: creating access to education — inside and outside of classrooms — is the most powerful tool children can use to change their world.