Christian Children's Fund of Canada screens award-winning documentary in Toronto
The four-year, $15.2-million project is jointly funded by Global Affairs Canada
The project aims to keep youth and children safe through training, improved employment opportunities and leadership skills development
Children's rights at forefront of free movie screening
Christian Children's Fund of Canada brings award-winning documentary to Toronto audience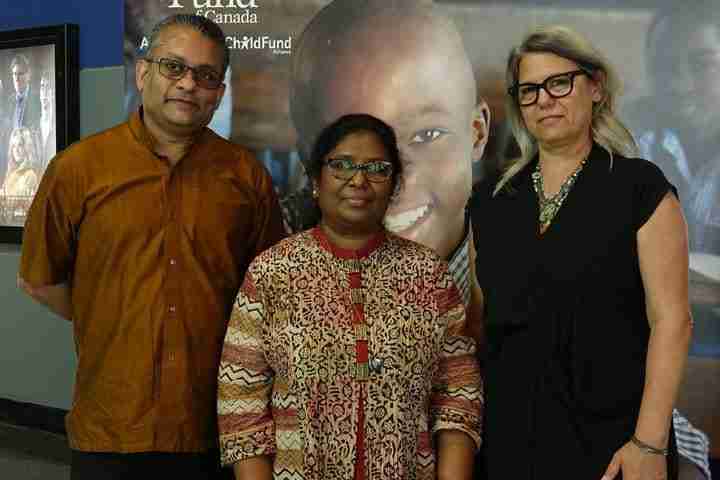 Uniting for change: (above, left to right) Patrick Canagasingham, CCFC's CEO; Dr. Belinda Bennet, CCFC's chief international programs officer; and Elisa Paloschi, director of Driving with Selvi
MARKHAM, Ont. — A captive audience saw life through the eyes of a child bride, experiencing the tragedy and then hopeful future of one girl who overcame the odds to start a new life, at a recent Christian Children's Fund of Canada (CCFC) movie-screening event in North York.
CCFC presented its 'Movie for a Cause' June 9 at Cineplex's Empress Walk theatre. The award-winning documentary Driving with Selvi was shown to raise awareness to the issue and give an engaged audience a chance to talk to the filmmaker-director, Elisa Paloschi.
Selvi is a former child bride who escaped a violent marriage to become South India's first female taxi driver. Paloschi, who became friends with and filmed Selvi's life over a 10-year period, told the audience the experience changed her life.
Child, early and forced marriage is an issue that still exists around the world and many are still unaware of the fact that a third of all girls in the developing world are married before the age of 18, with a surprising one-in-nine married even before the age of 15.
Patrick Canagasingham, CCFC's CEO, welcomed guests and explained the issue and why CCFC is dedicated to making children aware of their rights so they're more involved in decisions that affect them.
"Selvi's experience highlights the sad reality too many girls in India and around the world face for countless reasons — tradition, poverty and more. We're working within vulnerable communities, with various stakeholders, to bring these girls and their rights to the forefront," said Canagasingham. "We believe every child should have a voice and be free to achieve their full potential. It's why we're encouraged by women, like Selvi, who are showing positive change is possible."
"The message of hope is portrayed beautifully through reality," says Chirasree Sen-Verma, who attended the screening.
To learn more about CCFC and its work to on this issue, in the countries where it operates, visit childrenbelieve.ca.
Children Believe works globally to empower children to dream fearlessly, stand up for what they believe in — and be heard. For 60+ years, we've brought together brave young dreamers, caring supporters and partners, and unabashed idealists. Together, we're driven by a common belief: creating access to education — inside and outside of classrooms — is the most powerful tool children can use to change their world.