POSTED November 15, 2021
How have we made a positive impact on children's early development in Africa?
Supporting kids in their early years is helping them survive and thrive in the long term
By Christine Dyal, communications intern, and Crystal Lee, editorial manager, Canada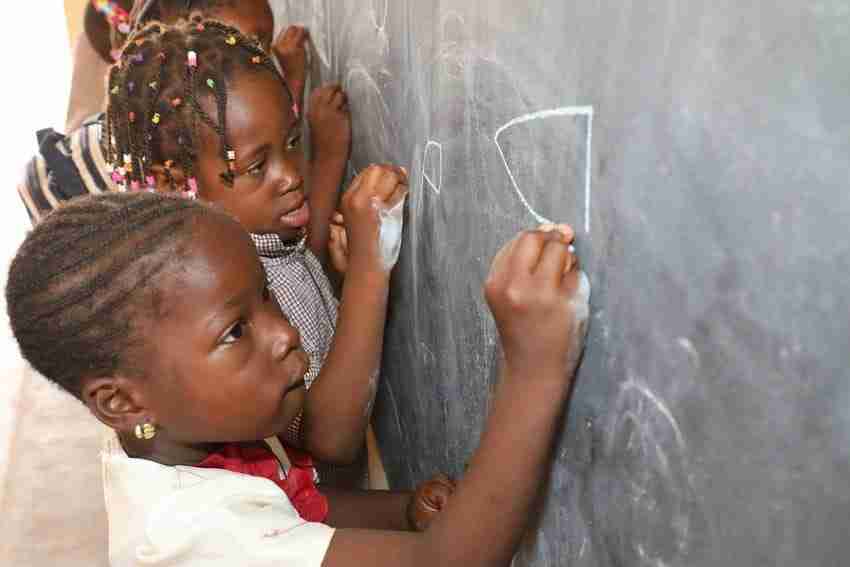 Think about what you can do in 1,000 days; that's just under three years. You could master a new skill, establish a home, change your career path — the possibilities are endless. Within the span of three years, life can change dramatically, yet we don't often remember our most formative, first 1,000 days.
Children Believe's teams around the world are helping communities recall the importance of this critical time and even earlier stages of child development.
Our work in maternal and child health is raising awareness and creating access to vital services to make a real difference for families.
Why is early childhood so important?
The first 1,000 days after birth profoundly impact a child's ability to grow, learn and thrive. More than one-million neural connections are formed every second in our first few years; this happens at a pace that drops drastically as we age. These connections create the foundation from which future learning, health and behaviour are built.
But development begins even before birth; our formation begins in the womb.
"In the earliest years of life, especially from pregnancy to age three, babies need nutrition, protection and stimulation from talk, play and responsive attention for healthy brain development," UNICEF notes. This time of essential development — physical, mental, emotional and social — helps a child thrive.
What's holding parents back from accessing quality, early childcare in Africa?
Maternal and child healthcare, as well as early child development, are vital, yet underdeveloped or absent around the world, including in many parts of Africa where we work.
In rural and marginalized communities, there's less awareness or access to resources and services, poor infrastructure, gender inequalities and outdated ideologies that can create negative stigmas about accessing healthcare.
How's maternal and child healthcare in vulnerable communities falling short?
Diseases and malnutrition, as well as pregnancy and birth complications, kill millions of children and mothers every year. The mortality rates are especially high in Africa, home to the highest global rate of maternal and child deaths (for those under the age of five).
Why are women and children dying? It's specifically due to delays in…
seeking appropriate medical care
reaching an appropriate health facility
receiving adequate care by skilled professionals at a health facility
Nutrition is also critical to good health. Yet, it too requires awareness and training.
More specifically, women must understand the importance of good nutrition for themselves and their children, including what food to eat, good food preparation, child-feeding practices and recognizing harmful traditional practices that lead to malnutrition. (For example, one mistaken belief is eating eggs, fish or other nutritious foods, will make a child become a "thief.")
Access to nutrient-rich foods is necessary and not always easy to find in rural African communities.
How's the world coming together to create better child development and care?
The United Nations (UN) Sustainable Development Goals are bringing the world together to make meaningful change happen by 2030. Two goals directly relate to early-childhood development and care:
Shining a light on the value of early child development
As babies become toddlers, connecting with them as they grow is important, but since early childhood development (ECD) is not common in most African families, for example, positive progress takes time.
Look no further than the governments of Burkina Faso and Ghana, which have carved out laws and policies to support ECD but have weak implementation. More collaboration is needed to deliver holistic, comprehensive services; and more financial investment is necessary to turn policy commitments into reality.
What's Children Believe doing to support early child development in Africa?
Since we began working in Africa in 1987, we've stayed true to our commitment to create a future of hope for children, families and communities by helping them develop skills and resources to overcome barriers and thrive.
Our teams in Africa recognize the challenges in maternal and child healthcare, and early childhood development. They've been working collaboratively with multiple stakeholders during the past few years to address these issues and significant progress has been made.
Our most recent work and achievements in these areas are captured in two reports: "Canada-Africa Initiative to Address Maternal, Newborn and Child Mortality project final evaluation: Ethiopia (2016-2020)" and "Starting right: Early childhood development and the Learning-Through-Play method."
Project success: Canada-Africa initiative to address maternal, newborn and child mortality
Children Believe's Ethiopia team led a project in the country to prevent the death of mothers, newborns and children under the age of five from health complications.
These activities were part of a broader effort made across Kenya, Malawi and Tanzania, called the Canada-African Initiative to Address Maternal, Newborn and Child Mortality (CAIA-MNCM).
The four-year CAIA-MNCM project (March 2016 to March 2020), with funding from the Government of Canada, focused on the health of new mothers, pregnant women, newborns and children under five. The goals were to:
improve delivery of essential health services
improve use of the essential health services
increase consumption of nutritious food and supplements
To do this, we trained the healthcare workforce and improved health facilities/services by supplying medical equipment, installing solar-power systems and building maternity waiting areas as well as water, sanitation and hygiene facilities.
Communities also benefited from education on health and essential services as well as the establishment of local support groups.
This project helped nearly 410,000 people.
How we used play to help children learn and grow
Our teams have also been advocating for ECD, aligning with research and the UN's Development Goals and also promoting the Learning-Through-Play (LTP) methodology.
The idea is to focus on activities, which support physical and cognitive growth, relationship-building, communication and social skills, emotional maturation and self-confidence in children. For example, interactive and tactile activities such as singing, dancing and playing with clay or toys made from local materials have been effective, especially when parents are involved.
LTP connects parents (mothers and fathers) with their child's development, encouraging a parent-child attachment and better gender equity.
We've been working with governments, communities, health-service providers, educational institutions and like-minded organizations to provide play facilities and materials, water systems and furniture for schools, training on ECD-LTP and child rights, education on health and nutrition as well as assistance in forming supportive community groups.
Annually, LTP activities in Burkina Faso and Ghana, for example, benefit nearly 50,000 children, aged zero to six.
These activities have also built stronger bonds between children and their parents, thanks to an investment in infrastructure, training, education, collaboration and more.
Program results show school enrolment has increased, the quality of teaching and learning have improved, both parents are more involved in raising their children and spaces for children in family decision-making have emerged.
What's the impact of our work on maternal and child health in Africa?
Equipment, supplies and training have created a stronger healthcare infrastructure, so facilities we support can offer newborn delivery services.
More community members understand the value of health services and are open to using them.
Men are supporting the use of maternal and child-health services at health facilities, improving women's decision-making power.
There are less underweight children as mothers and pregnant women are accessing nutritious food and supplements.
Ultimately, the culture of maternal and child healthcare has shifted, creating a path to progress and lasting change.
How far have we come for women and children's development in Africa?
Our achievements are recognized nationally…
In Ghana, Children Believe was invited to serve on the technical group for the development of a new early childhood care and development policy for the country.
In Burkina Faso, our team has been training senior staff from the Ministry of Children on the LTP method.
In Ethiopia, the government presented our local office with a Best Practices award for the implementation of a maternal-health project that implemented Learning Through Play
Great progress has been made for those crucial first 1,000 days of a child's healthy development. But, there's still lots to be done. Stay tuned! (We're already working on next steps).
You can help make positive change. Sponsor a child today.
To learn more:
Children Believe works globally to empower children to dream fearlessly, stand up for what they believe in — and be heard. For 60+ years, we've brought together brave young dreamers, caring supporters and partners, and unabashed idealists. Together, we're driven by a common belief: creating access to education — inside and outside of classrooms — is the most powerful tool children can use to change their world.
About Canada-Africa Initiative to Address Maternal, Newborn and Child Mortality (CAIA-MNCM):
The Canada-Africa Initiative to Address Maternal, Newborn and Child Mortality is a partnership among four Canadian organizations — Amref Health Africa, Children Believe, Centre for Global Child Health at The Hospital for Sick Children (SickKids) and WaterAid Canada. With support of $24.9 million from the Government of Canada (85 percent of the total project budget), this four-year project (2016 to 2020) aims to directly reach 1.7-million women, children and men across 20 districts in Ethiopia, Kenya, Malawi and Tanzania. The partners are working together with African communities to improve the delivery of essential health services to moms, pregnant women, newborns and children under the age of five; increase the use of these improved health services; and improve the consumption of nutritious foods and supplements.
About ChildFund Alliance:
A member of ChildFund Alliance, Children Believe is part of a global network of child-focused development organizations working to create opportunities for children and youth, their families and communities. ChildFund helps nearly 23-million children and their families in 70 countries overcome poverty and underlying conditions that prevent children from achieving their full potential. We work to end violence against children; provide expertise in emergencies and disasters to ease the harmful impact on children and their communities; and engage children and youth to create lasting change and elevate their voices in decisions that affect their lives.