POSTED September 15, 2022
A climate-smart initiative is creating a better world for youth in rural India
Find out how young people are helping hundreds of thousands of community members breathe cleaner air
By Danielle Daley, digital community coordinator, Canada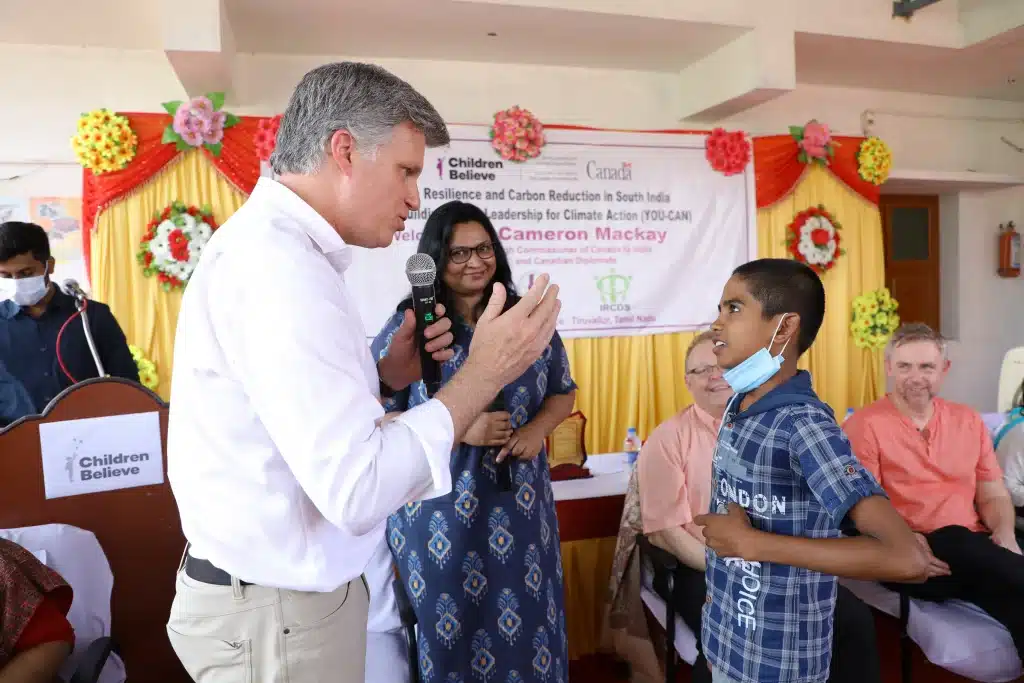 "A healthy environment improves the quality of life for everyone," affirmed Cameron MacKay, Canada's high commissioner to India, upon celebrating the ongoing success of a climate-smart initiative in our India program this summer.
Thanks to support from the Canada Fund for Local Initiatives (a Canadian government initiative), and local partners — SPEECH, ROPES and IRCDS — we're developing local youth leadership in South India through climate adaptation measures.
The goal of the Building Youth Leadership for Climate Action project is to improve the quality of life of nearly 100,000 children and their family members by creating safe sustainable low-carbon environments, reducing emissions in 110 villages.
MacKay saw how youth in Children Believe's program are a big part of the change, playing an active role in building awareness, supporting eco-friendly practices and leading initiatives that will make a difference, such as tree planting.
And, as young people take the lead, they're gaining confidence and courage to dream fearlessly, stand up for what they believe in and be heard.
The project has already done a lot. So far, five oxygen parks with 7,500 trees have been established in five communities. And, youth clubs are maintaining the parks, doing their part to reduce carbon emissions.
As the project continues, you can help children and their communities in India fight climate change by giving a green gift from our catalogue today.
Children Believe works globally to empower children to dream fearlessly, stand up for what they believe in — and be heard. For 60+ years, we've brought together brave young dreamers, caring supporters and partners, and unabashed idealists. Together, we're driven by a common belief: creating access to education — inside and outside of classrooms — is the most powerful tool children can use to change their world.
About ChildFund Alliance:
A member of ChildFund Alliance, Children Believe is part of a global network of child-focused development organizations working to create opportunities for children and youth, their families and communities. ChildFund helps nearly 23-million children and their families in 70 countries overcome poverty and underlying conditions that prevent children from achieving their full potential. We work to end violence against children; provide expertise in emergencies and disasters to ease the harmful impact on children and their communities; and engage children and youth to create lasting change and elevate their voices in decisions that affect their lives.