POSTED May 17, 2021
What will it take to end child, early and forced marriage?
Learn how Children Believe is leading research to get more answers needed to stop child marriage
By Crystal Lee, editorial manager, Canada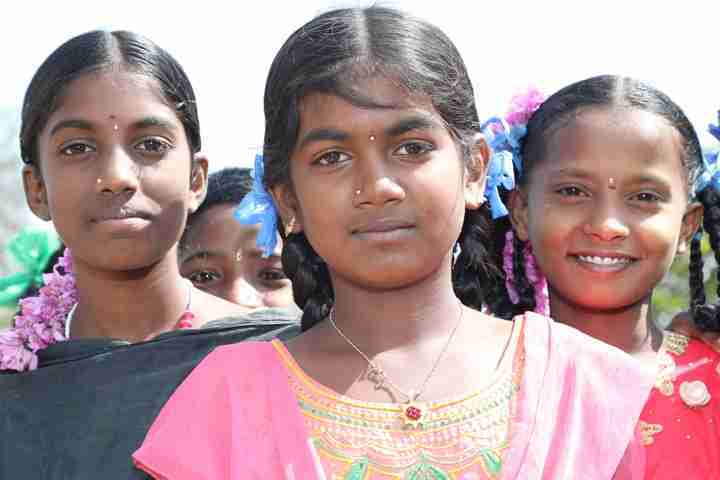 Imagine 12-million marriages a year.
A big number like this makes it easy to accept marriage is a widely practiced tradition. But, upon closer examination, there's nothing acceptable about it. Why not?
Approximately 12-million girls are married each year before they reach age 18, according to UNICEF data from 2018. That's one in five girls globally whose childhoods end abruptly, their future prospects compromised. Multiple countries make up this number, and India is among them.
Our team in India sees the danger of child, early and forced marriage lived out, and they're joining with peers, government and global and local partners to eliminate this harmful practice.
What exactly is child, early and forced marriage?
How do you define it?
Any marriage or informal union where at least one of the parties is under the age of 18 is recognized as child and early marriage (commonly referred to as child marriage); it is often non-consensual or forced.
Who does it affect most?
The practice disproportionately affects women and girls globally and has long-term consequences.
What's the impact?
For girls, it not only takes away their right to choose a marriage partner, but it also affects their right to good physical and mental health, and access to education, which directly impacts their future prospects.
Child brides are more likely to experience domestic abuse and have early pregnancies, putting them at a high risk of complications and maternal and/or newborn mortality. And, when a girl is married as a child, she's less likely to remain in school and can become isolated from family and friends, leaving her fully dependent on her husband.
All these negative effects from child marriage lead to a girl facing more economic and health challenges than her unmarried peers, which has an effect on her children. The consequences spread even further, putting a strain on her country in providing health services, social assistance and education.
How is the world addressing it?
Recognition of this issue and its ramifications has been growing. We're seeing more countries enact and enforce stricter laws, organizations developing programs to address or mitigate the practice, advocates increasing awareness and young people raising their voices. In fact, this is one of the Sustainable Development Goals set by the United Nations' "to achieve gender equality and empower all women and girls by 2030."
The good news is evidence from across the globe shows there has been an overall decline in child, early and forced marriage (CEFM), but there's a long way to go.
How is child marriage being addressed in Children Believe programs in India?
Based on population data from the United Nations, India has the highest number of child marriages, with a total greater than that of the second, third, fourth and fifth leading countries combined.
The Indian government has taken steps to end CEFM through the implementation of laws, adoption of action plans, development of programs and provision of incentives, which has led to a decline in these unions. But, the number of girls and boys getting married early still remains high.
According to National Family Health Survey (NFHS) data (see chart below), the prevalence of child marriage in India has seen a decline in the past decades, from 57 percent in 1992-93 to 27 percent in 2015-16. But, a quarter of India's child population, persons under the age of 18, are still affected.
The challenges of addressing child marriage
In India, the legitimacy and significance society places on a marriage is complex. Causes like "dowry," "poverty," "fear of sexual violence" and "family honour to marry within a caste" stand out as key reasons the practice remains. And, the root causes are a combination of underlying social structures and inequalities tied to patriarchy, class, caste, ethnicity, religion and sexuality.
Legal reforms have been made and policy frameworks have been established to discourage CEFM, but they're difficult to enforce when they go against shared community norms and values. There are also discrepancies in definitions for key terms in regulations, such as 'child' and 'child marriage,' which creates further barriers for implementation and enforcement.
Although much is known about CEFM in India, knowledge gaps continue to prevent lasting positive change. These gaps are where our team in India is looking to make headway and support successful efforts to end CEFM.
How are we taking the next steps to address child marriage?
The history of our work
Children Believe champions children's rights and dreams. We do this by working with and bringing together children, families, communities, coalitions, government offices, businesses and academia from across the world.
Our work is grounded in the belief that education and knowledge are empowering. For children, education is central to creating a future where they can do the extraordinary, and for more than 60 years, Children Believe has supported children in breaking barriers to access life's essentials.
Broadly, education and knowledge are vital for progress. They're critical for finding solutions to the many issues we face globally, such as human-rights violations, poverty, disease and climate change. We must continue to expand our knowledge to support growth and advancement. And, when we come together in this effort, through collaboration and sharing our learnings, there's infinite progress we can benefit from.
In line with this, Children Believe's India team is on its way to becoming a Centre of Excellence (CoE) on Gender and Social Inclusion, and addressing the issue of CEFM is a priority.
How we're making change
Children Believe has been advocating for child rights, gender equality and education since we began working in India in 1972. We've come a long way by focusing on initiatives that make a difference. Our program approach so far has included:
promoting girls' leadership within clubs, and making men and boys part of the change;
empowering children, especially girls, to speak up and protect their rights;
building strong communities with networks to end local child marriages;
organizing evidence-based campaigns to influence community practices and government;
promoting girls' education; and
working with local government to strengthen social protection for girls in need.
Of course, child marriage has a long history that requires broad efforts to understand and, ultimately, better address the issue; we needed an analysis of what we know about child marriage and what we still have to learn.
To that end, we hosted a national consultation about child marriage with Girls Not Brides in New Delhi. What arose was a strong affirmation that reinforced Children Believe's research goal to conduct a study on child marriage and identify knowledge gaps. The central question being, despite progressive policies and programs from government and civil society, why is 'zero' child marriage so elusive in India?
The "Child, early and forced marriage in India: What we know and what we need to know" report is a product of this effort and our aspirations. In it, we outline what is already understood about the issue of CEFM and the gains made in eliminating it. We also identify knowledge gaps and blind spots in approaches and the challenges in implementing initiatives successfully.
Overall, we aimed to gain greater clarity about where to direct research and strategies to ending CEFM and recommended key areas to invest more resources.
Child, early and forced marriage research report — our goals
To conduct a thorough investigation of what we know about CEFM in India, and the existing gaps, we leveraged research to examine four components:
a review of the existing literature on CEFM to find gaps in information and evidence;
mapping and review of organizations and programs in India with CEFM-focused initiatives;
interviews with subject experts to discuss key findings from existing research in India to better understand what we're missing; and
a review of data from Children Believe's two-day national consultation with Girls Not Brides.*
*The consultation involved 90+ participants, including child leaders from 55+ organizations across 13 states. This event created space for honest conversations around experiences and challenges in working on the issue, learning and evidence found and needs moving forward.
The findings of our child, early and forced marriage research report
Our investigation identified critical areas where deeper analysis is needed to build more effective strategies to end CEFM in India.
Based on our findings, we recommend the following overarching research areas, which are cross-cutting and missing from the existing research and evaluations.
Include the issue of forced marriage in future work, as it's completely missing from studies and efforts related to ending CEFM in India. Additionally, the terms 'early' and 'child' have been used interchangeably to describe any marriage that occurs before the age of 18. That needs greater analysis.
More research is needed to determine what happens to girls post-marriage, especially those who've learned about their rights, their bodies and sexuality. For example, have there been implications or benefits from the girl's knowledge of her rights? Can she safely share ideas that challenge social norms?
There have been attempts to explore local backlash against girls and families who do not conform to the practice of child marriage. The invisible, yet powerful, backlash at the systemic and institutional level remains to be studied.
Links between sexuality and child marriage, as well as its manifestations, need to be explored, although there have been some initiatives with a gender and sexuality lens in approach and content.
For Children Believe, these findings and recommendations give us greater clarity about where to focus and improve our efforts to end CEFM in India, while offering insight into the best way to advance our strategies to end CEFM in other countries.
Our learnings will give us the knowledge to engage in policy discourses, discussions and actions to eliminate CEFM at a broader level. Through our recommendations, we intend to help bring consistency and a merging of ideas among government departments and civil-society organizations to strengthen child-protection mechanisms.
Of course, we must continue connecting with young people, families and communities to spark conversation about child rights, gender equality and child marriage. From there we will ensure safe, affordable and quality education is accessible, empowering girls and exposing them to opportunities to help them reach their dreams.
Sponsor a child today, and help end early and forced marriage.
Read the Child, early and forced marriage in India full report now. You can also learn more about other issues children in India face by accessing our Balahitha: In favour of children case study. It reviews our goal to create a protective environment for children by reducing the gap between the promise and performance of policies, legislation and programs.