POSTED August 30, 2022
A look inside the extraordinary role of a teacher in our India program
Join us as we sit down for a discussion with a middle-school headmistress in a vulnerable community 
By Siju Mathew, monitoring, evaluation, learning and knowledge sharing officer, India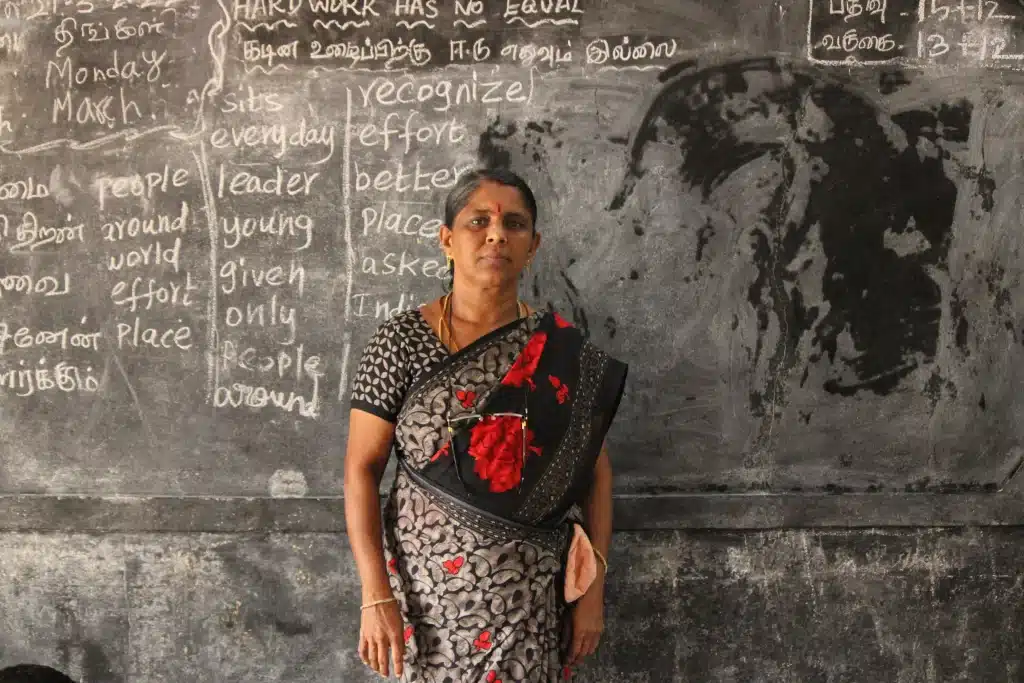 Teachers do so much more than teach! 
To gain a deeper appreciation for the extraordinary role of teachers in children's lives (and how much donor support makes a difference), we sat down with Ms. Kamakchi Subramaniam — a headmistress of a school in India — who teaches Grades 4 and 5.
We think of teachers as super sleuths, helping children uncover their hidden talents, would you agree?
Yes! Similarly, as a sculptor sees a statue in the stone, I see the hidden talent of children. I put additional effort into moulding students holistically to explore their abilities. I encourage them to think broadly and explore their responsibility toward society and the opportunities available to them.
What motivated you to work in a vulnerable community, and what do you love most about teaching?
I grew up in a vulnerable community and experienced the challenges of accessing education. It's one of the primary reasons I chose teaching as a profession. I'm committed to uplifting underprivileged children living in poverty and socially oppressed environments.
So many children thrive in schools and the sense of community and encouragement it provides. What does your school do to help kids?
We help children gain an interest in learning and learn to respect others. The school promotes children's creativity by involving them in various arts and crafts activities, games and competitive sports.
Our school also provides a safe environment for children where learning is strengthened, and students are shaped to become responsible citizens. My students aspire to become police officers, teachers and doctors.
My goal is for my students to lead healthy and happy lives and to feel safe, secure and loved within their families and community.
What challenges do your students face, and how do you help overcome them?
Children from vulnerable communities face many barriers, including access to digital resources, early or forced marriage, child labour or child violence and abuse. Our school provides a safe, child-friendly space for children. School walls are painted with cartoons and infographics on child rights, protection and participation.
How have Children Believe supporters helped students at your school?
Through the help of Children Believe, learning centres have been equipped with laptops to keep students learning, and motivational programs have been created to help children realize their rights. We're deeply grateful!
We thank Kamakchi — and all teachers around the globe — for the countless hours spent inside and outside the classroom to keep children passionate and inspired about learning. And, we wish all students and teachers the very best for a successful school year filled with new hopes, bright dreams and fun learning.
Learn more about how you can help a child thrive in school by sponsoring a child today.
Children Believe works globally to empower children to dream fearlessly, stand up for what they believe in — and be heard. For 60+ years, we've brought together brave young dreamers, caring supporters and partners, and unabashed idealists. Together, we're driven by a common belief: creating access to education — inside and outside of classrooms — is the most powerful tool children can use to change their world.
About ChildFund Alliance:
A member of ChildFund Alliance, Children Believe is part of a global network of child-focused development organizations working to create opportunities for children and youth, their families and communities. ChildFund helps nearly 23-million children and their families in 70 countries overcome poverty and underlying conditions that prevent children from achieving their full potential. We work to end violence against children; provide expertise in emergencies and disasters to ease the harmful impact on children and their communities; and engage children and youth to create lasting change and elevate their voices in decisions that affect their lives.