POSTED September 8, 2021
How a sponsor helped a girl achieve her dream
Meet Amidu a sponsored-child-turned-teacher who is thankful to her sponsor for helping change her future
By William Anim-Dankwa, communications manager, Ghana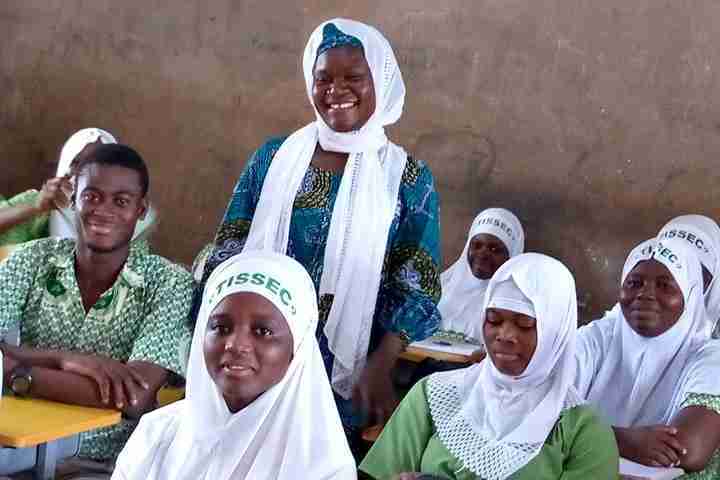 Girls face numerous obstacles to attend and continue school in many parts of the world. In Ghana, Amidu is doing what she once dreamed of, teaching young children and giving back, but getting there was a lesson in overcoming adversity.
Forced out of school at an early age and coping with her mother's death, striving for formal education was challenging, to say the least.
"Where would I be without Children Believe?" the 28-year-old university graduate asks. "I have come a long way and now teach four class levels — about 400 students."
Amidu's journey to a fulfilling life as a professional teacher started with her primary education. At a young age, she had to leave school because her family couldn't afford the fees. Staying home was difficult for the eager student, but her life was forever changed when Children Believe told her they'd found her a sponsor.
Amidu still remembers the day when her name was called, and she was asked to step forward to have her photo taken for the program.
"From that time on, I was excited to be able to go to school," she says. "I received a school uniform, textbooks and other school materials."
Without these items, she would not have been allowed to attend school. But, this wasn't the end of Amidu's challenges. She said that without her mother, she needed more help from Children Believe to guide her in practical areas, such as feminine hygiene, which most take for granted.
"For other girls, this wasn't so difficult, and it gave them the confidence to go to school daily," she explained. "I also had a long distance to go to school. During junior high school, I was always arriving late."
This caused conflict with her teachers, but donations to Children Believe made a difference. A bicycle was purchased for Amidu to make the long journey and get to school on time.
Along with the financial support sponsorship provides, Amidu is grateful to Children Believe for organizing youth meetings to help her and other children in the community understand their rights and the importance of education. She says the impact on her and girls like her has been tremendous. She is encouraged to dream higher and to achieve even more.
Help more children like Amidu reach their dreams. Sponsor a child today.
Children Believe works globally to empower children to dream fearlessly, stand up for what they believe in — and be heard. For 60+ years, we've brought together brave young dreamers, caring supporters and partners, and unabashed idealists. Together, we're driven by a common belief: creating access to education — inside and outside of classrooms — is the most powerful tool children can use to change their world.
About ChildFund Alliance:
A member of ChildFund Alliance, Children Believe is part of a global network of child-focused development organizations working to create opportunities for children and youth, their families and communities. ChildFund helps nearly 23-million children and their families in 70 countries overcome poverty and underlying conditions that prevent children from achieving their full potential. We work to end violence against children; provide expertise in emergencies and disasters to ease the harmful impact on children and their communities; and engage children and youth to create lasting change and elevate their voices in decisions that affect their lives.