POSTED March 17, 2023
Young people share how education is transforming their lives in Nicaragua
Watch this panel discussion about the challenges young women face for employment and ways we are helping youth employability
By Danielle Daley, digital community coordinator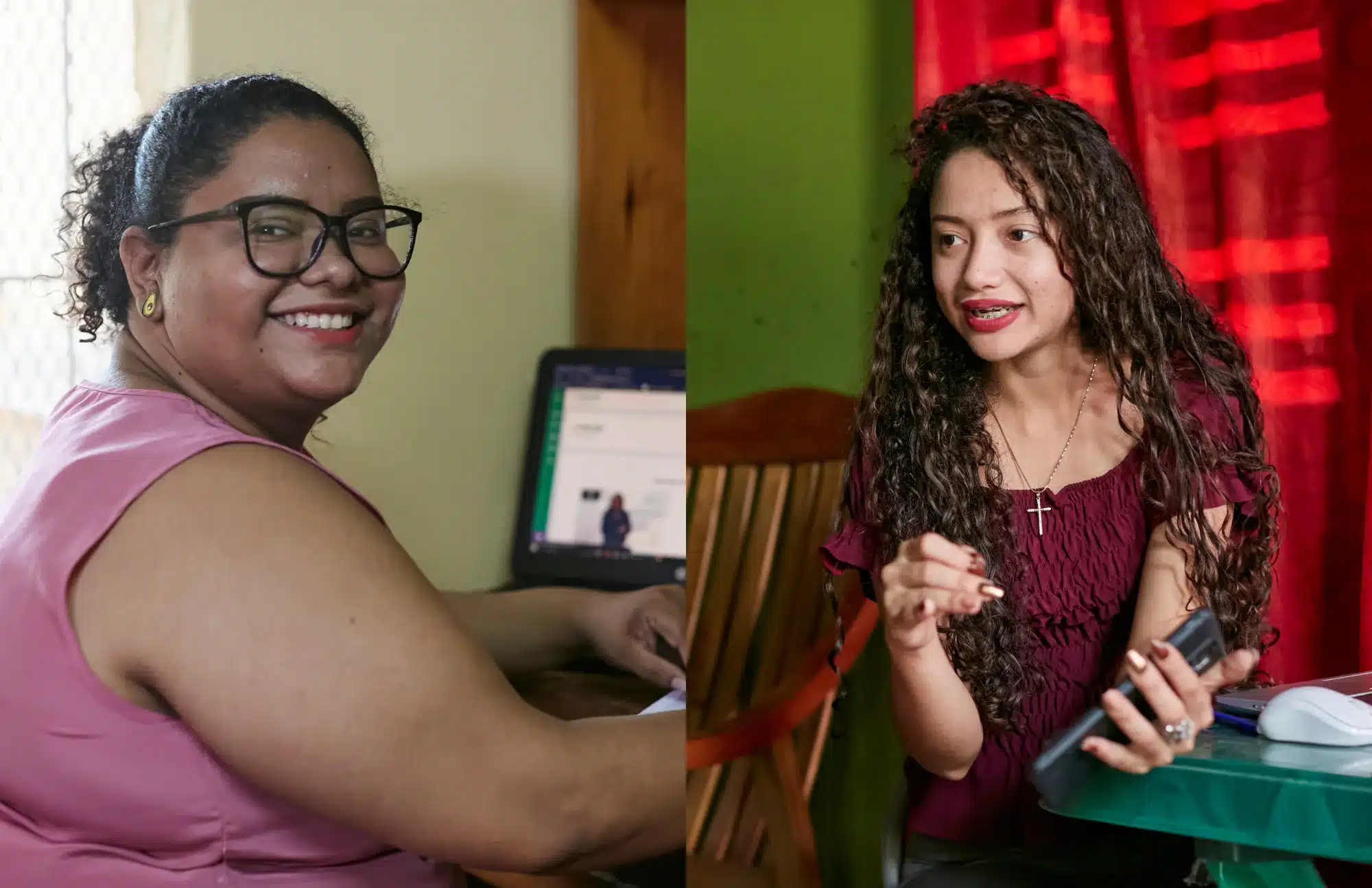 Did you know in 2021 280-million young people were out of work worldwide? And a huge portion of those are women. Even though International Women's Day has passed, we still want to highlight some amazing young women who are standing up for girls and women empowerment.
"We believe that women and girls have the ability to transform their households, their societies and their economies…. many women and girls find themselves relegated to education streams that lead to low growth, low status and low paying employment."
Amelie Bordeleau, Counsellor (Development) Head of the Office
at Embassy of Canada in Nicaragua
Jasleydis and Karina represent the progress against the problem of youth employability across Latin America and in the Caribbean. Both women have faced many barriers when it comes to obtaining employment such as, economic challenges and class and beauty discrimination. The two young women took center stage at the Young Stars webinar, to talk about how they have benefitted from EMPUJE our employment project, in Nicaragua.
Karina says, "With so many young people looking to start our careers, a technical course is something very specific that helps us. So with EMPUJE I had the opportunity to take the digital marketing course that I wanted and the one that caught my attention the most because of the business that I run."
And when asked about the message they would like to share to all women, Jasleydis said,
"My principle message for all women is to study because education is the foundation for progress… don't let fear enclose you, be daring and cut through cultural biases."
Take a look at the video below to learn more about Jasleydis and Karina's story in Children Believe's webinar: Young Stars: Canadian Contributions to Amplifying Youth Voices and Closing the Gender Gap on Youth Employability.
Video transcript: [How is girls' education in Africa being put at risk during the pandemic?]
-music-
Sarah Ormiston: Young girls in developing countries have always faced extraordinary challenges advancing their education, especially getting access to studies in STEM, which is science, technology, engineering and math. But the worldwide pandemic has increased this burden. Forty-seven percent of the world's children out of school, due to COVID restrictions, live in Sub-Saharan Africa, and more than half of those are girls. In all of Africa, there's a staggering 308-million girls under 18, a quarter of those are adolescents, and they are at a critical turning point in their lives. So part of our job here today is to help them.
Leslie MacLean:
Under our Feminist International Assistance Policy, we remain committed to dismantling the barriers to quality education for women and girls. Understanding this needs to be a key part of our commitment.
Phumzile Mlambo-Ngcuka:
In this time of crisis, for which we don't have and do not know solutions, but, we know when it comes to education, that it is never a waste. It is also important that public education is quality, accessible and affordable, because public education is an equalizer.
Leila Akahloun:
As a rapid response to the COVID-19 pandemic in April of 2020 last year, the trust conducted research on the social and economic impact of COVID on women and girls and implemented a campaign to amplify the voices and perspectives of women and children to help inform relevant responses to the pandemic. We wanted to give a face and a voice to the statistics that were quite abhorrent. We held numerous webinars and Instagram Live conversations with the intention to hear from girls themselves on the impact the pandemic was having. Our discussions gave colour and texture to the data. Many were taking on household chores well beyond their capacity. Many felt disconnected from friends and family. Many were struggling with the inequities caused by the digital divide, saddened by school closures, fearful of abusers in their own home and experiencing mental-health challenges.
Fred Witteveen:
Adolescent girls, particularly those living in vulnerable areas, have a unique set of barriers. Some are forced to marry while still a child, and as we know, this often leads to early pregnancy. That has a long-term, life-changing effect, including denial of education. We actively work with local schools, partners, social workers and government agencies in Burkina Faso, Ethiopia and Ghana to intervene and prevent child marriages from happening. Where we cannot convince a family to stop a child marriage, we provide safe havens for girls away from their familial home. Some girls are denied an education, because they live in families that simply can't afford to send them to school, or they prioritize their son's education over a daughter's education.
Antoine Chevrier:
I think this is, the girl's education, is, from a development community, is also we need to learn it's a nexus issue. It is a development issue, but it's not strictly only a development issue. It's also a governance issue, it's a human rights issue, it's a diplomacy issue, and I guess it carries to the point that it's about resources as an international partner as a department like Global Affairs but also like-minded. But it's all. It's not only about resources, it's about influence; it's about actually making sure that you take a stand on what you believe is right, and then you drive that point via multiple city channels through programming. And then you need to be able to demonstrate that you're investing, and you're supporting, but also that you're trying to influence the direction.
Tanaka Chikati:
I think an important factor would be to talk to parents. So, yes, we could be educating girls, and they're going to school, however when they go back home, parents might find it better and easier to just let their child get married early so that they can get a short-term solution to financial problems that they find themselves in. However, if there are situations where parents are explained to, they're taught, they are told that long-term benefits that come from educating your child, are going to be immeasurable.
Daniella Asare:
One thing I have identified is that there is this gap between stakeholders and then the adolescent girl, and I believe that if we are able to bridge that gap then we can impart the adolescent girl.
Leila Akahloun:
Education, as was mentioned, is not just an issue of curriculum, or sort of brick-and-mortar schools, but it is a very multi-faceted complex issue, which needs to be addressed. And, again, once if we look at this — if we look at the recovery to COVID from the lens of the of the entire need of a child and a woman these issues will come to bear, and it will be impossible to ignore.
Fred Witteveen:
Children Believe has been working with our local partners to design and implement programs served related to the pandemic. This includes addressing the surge in gender-based violence. We work with local partners to strengthen law enforcement bodies to bring abusers to justice. We support the availability of psychosocial counselling services for victims. As a result, over 146,000 children and women benefited from various forms of services as a result of gender-based violence. I will end with this, I hope we leave today with a renewed spirit for this work. We have a huge challenge, but when we work together, seeing how we're all committed to this work to make sure girls in Sub-Saharan Africa can get an education, that they can be protected and supported and reach their dreams — we understand that needs to be done. We know it can be done, but do we have the will to make it so.
-music-
Children Believe works globally to empower children to dream fearlessly, stand up for what they believe in — and be heard. For 60+ years, we've brought together brave young dreamers, caring supporters and partners, and unabashed idealists. Together, we're driven by a common belief: creating access to education — inside and outside of classrooms — is the most powerful tool children can use to change their world.
About ChildFund Alliance:
A member of ChildFund Alliance, Children Believe is part of a global network of child-focused development organizations working to create opportunities for children and youth, their families and communities. ChildFund helps nearly 23-million children and their families in 70 countries overcome poverty and underlying conditions that prevent children from achieving their full potential. We work to end violence against children; provide expertise in emergencies and disasters to ease the harmful impact on children and their communities; and engage children and youth to create lasting change and elevate their voices in decisions that affect their lives.