POSTED August 31, 2020
How has rural Ghana changed for the better after 20+ years of development?
See how Children Believe's work is making a real difference
By Christelle Kalhoulé, director, West Africa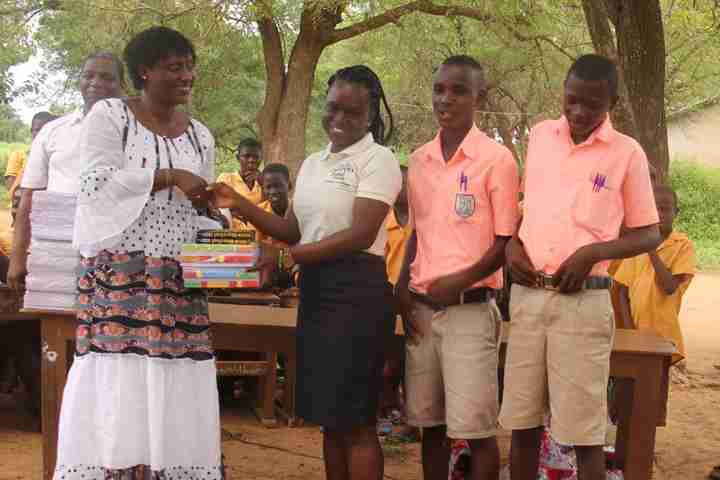 Children Believe's Christelle, director of West Africa, presents children with books following an academic competition
When I last visited Kasuliyili in Ghana, it was ante-natal day at the local clinic. As we drove towards the community, we could see women and their spouses on motorbikes and on foot coming towards the health centre. As we approached, we saw well-dressed women cradling babies, sitting under the clinic's pavilion waiting patiently to be called in for their little one's immunizations. This scene has changed a lot since Children Believe first came to the community.
Twenty years ago, Kasuliyili, was a small town of 2,500 people nearly 20 kilometres from the district capital of Tolon District. Its main dusty road, which was almost impassable in the rainy season, led to a community of peasant farmers growing yams, corn, millet, groundnuts and rice. Their children went to a government school serving five communities with a high student-teacher ratio.
Many children, particularly girls, travelled to look for jobs in urban centres, fuelling an uptick in street kids, abuse and violence.
A national assessment report found that around this time, in the 1990s, infant mortality was 76.7 percent, life expectancy was 56.8, maternal mortality was 630 per 100,000 live births, poverty was at 51.7 percent and literacy was 57.9 percent. Other challenges included inadequate school infrastructure and furniture, poor health facilities and inequalities in the enrolment of boys and girls among myriad issues.
This was the situation when Children Believe emerged in the Northern Region of Ghana in 1996.
We began our work by looking at education to help stem the flow of girls running away to search for a better life in urban centres. This came by adding infrastructure to communities that didn't have schools, such as Kutung, Sukaya, Kpahikpaba and others. School uniforms, school feeding, teacher training and school-management systems changed the narrative, and parents sent their children to school in droves.
To ensure children were well cared for and stayed in school, we gave them hot meals at lunch, and we provided training and resources to empower women to generate income. We gave them credit to start small businesses, such as selling small trinkets and groceries, and we trained them to manage loans and credit.
Children Believe's support to help achieve country-specific targets for the United Nations' Millennium Development Goals toward a better world for all — especially in areas of clean water, sanitation, education and livelihood development — led to the provision of potable water, sanitation facilities, vegetable gardens and the strengthening of institutional structures.
Meanwhile, improvements to health clinics and health posts attest to a desire to support government's efforts at reducing maternal and infant mortalities, malaria and worm infestations among children.
In fact, our recent "Promoting maternal, newborn, infant and child sustainable health efforts" project improved access to health facilities as staff received more medicine, equipment and training. We also trained parents to prepare nutritious foods using local crops. It's been a relief to see reduced infant and maternal mortality, moving Ghana one step closer to helping achieve progress on the United Nations' Sustainable Global Goals to improving health and well-bring around the world.
Children are growing up empowered, thanks to programs launched with UNICEF and other partners to ensure their protection from abuse, violence and exploitation, including violence against girls and child marriages. It hasn't been these changes alone that have accounted for the transformations in the communities, but it's been a catalyst for improvements in behaviour and mindsets.
Today, World Data Atlas findings show remarkable progress in reducing child mortality, though not from our efforts alone. The national poverty rate has reduced from 51.7 percent in 1991/1992 to 13.3 percent in 2016 data. There've been increases in primary school enrolment and increases in the ratio of girls to boys in school.
While visiting Ghana last year, I had the privilege to attend an academic competition and was happy to see girls standing confidently alongside boys (photo, top). We've come far.
Yakubu Abdulai, head teacher at one of the local schools, summed up his feelings about the changes to his community. "Children Believe started a primary school here, but now the government has added a junior high school," he said. "The community did not have a school, but now students are attending university and polytech schools. We are grateful to Children Believe."
And, we're thankful to the donors and supporters who make this all possible.
Children Believe works globally to empower children to dream fearlessly, stand up for what they believe in — and be heard. For 60+ years, we've brought together brave young dreamers, caring supporters and partners, and unabashed idealists. Together, we're driven by a common belief: creating access to education — inside and outside of classrooms — is the most powerful tool children can use to change their world.