POSTED October 11, 2017
Living the dream: the chance to be Consul General for the day
As we celebrate International Day of the Girl child, Jayanthi shares her unique experience growing up as a girl in India
By Lipi Jobson, CCFC communications manager, India
Jayanthi G, 26, was floored by a phone call she received a few weeks ago. The caller informed her she had won the chance to be the Consul General of Canada in South India for the day on International Day of the Girl Child, Oct. 11. Her first thought: 'Me? A Consul General?' Though she always believed in herself, she tells me that she never dared to dream this big.
Born and raised in a small village, Jayanthi's parents were labourers, so life wasn't easy. Thankfully, she attended a government-run school and received career guidance after graduation. "(Christian Children's Fund of Canada), and another NGO called SPEECH, conducted a career-training program in our community," recalls Jayanthi. "They helped me [assess] my aptitude and suggested I pursue a nursing degree, so I did that for four years, and now I'm working in a government hospital."
Jayanthi was overwhelmed when she won the chance to shadow Jennifer Daubeny (pictured, below), Consul General to The Canadian Embassy in South India. "When the interview for the selection of the Consul General was conducted, I attended it without expecting anything," she says. "I was so surprised when I heard I was selected. It's a big opportunity."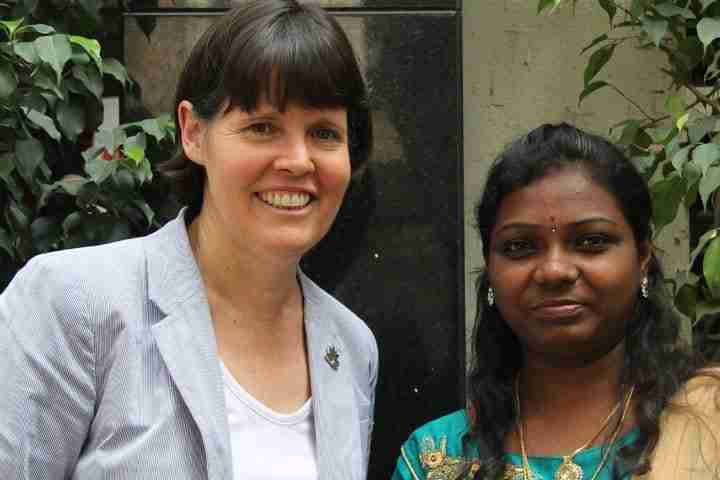 During the special day — part of a mission to raise awareness about girls' rights — Jayanthi visited two schools and talked to students about her experience overcoming life's challenges as a girl. "There are many students in our country who feel inferior because of their background. They believe that they can never succeed in life because they don't have the same opportunities as others, and they tend to give up too quickly," she said. "I want to encourage them to never stop dreaming and working towards that dream. It is possible."
In fact, being a mentor is something Jayanthi takes very seriously. "There are many children who don't have any guidance," she says. "In the future, I want to do my best to help students find their talents and choose careers [in which] they can excel."
Children Believe works globally to empower children to dream fearlessly, stand up for what they believe in — and be heard. For 60+ years, we've brought together brave young dreamers, caring supporters and partners, and unabashed idealists. Together, we're driven by a common belief: creating access to education — inside and outside of classrooms — is the most powerful tool children can use to change their world.