POSTED July 12, 2023
Malala Yousafzai: a beacon of hope and courage
"One child, one teacher, one book, one pen can change the world."- Malala Yousafzai
By Simran Bhatia, digital content services manager, Canada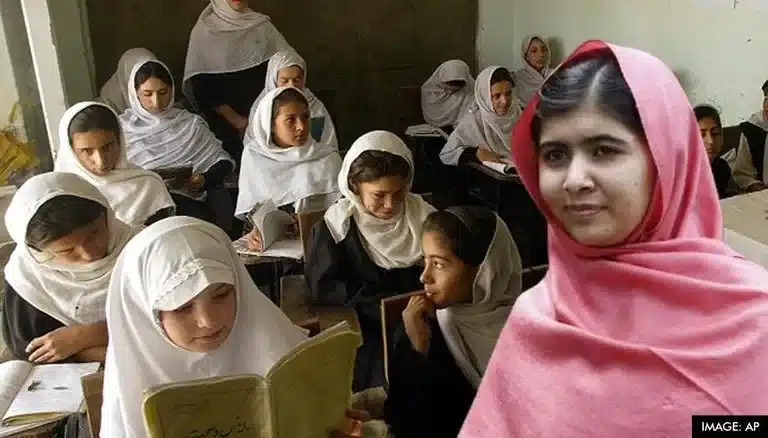 Today a young woman known around the world for her bravery, Malala Yousafzai, celebrates a birthday. We at Children Believe want to celebrate her, too, to recognize her for the ideals she stands for, as they so clearly align with our work to help girls overcome barriers that prevent them from accessing education. Malala, a name that resonates with bravery, resilience, and the unwavering pursuit of education for all. Born on July 12, 1997, in Mingora, Pakistan, Malala's life journey has become an inspiration to millions around the world. Exploring her incredible work, she is a courageous advocate for girls' education, dedicating her life to breaking down barriers and empowering girls to pursue their dreams through education.
Early life: Her journey from childhood, as a young activist in Pakistan, to a global icon today, serves as a reminder of the transformative power of education and the impact one person can have on the world. As we celebrate Malala's incredible achievements, Children Believe shares her passion to create equal access to education, to create a world where every individual, regardless of gender or background, can unleash their full potential and contribute to a brighter future for all.
Global Impact and Recognition: Malala's story has ignited a global movement, inspiring girls and young women to believe in their potential and fight for their right to education. At the age of 11, Malala started anonymously blogging for BBC Urdu under a pseudonym, sharing her experiences of living under Taliban rule and advocating for girls' education. Her powerful words resonated with people both within and outside Pakistan, drawing attention to the plight of girls deprived of education. Malala's advocacy efforts have a significant impact worldwide. She speaks regularly at international events, engages with world leaders, and calls for greater investment in girls' education. In 2014, she became the youngest-ever Nobel Prize laureate, further shining a spotlight on the urgent need for diversity, equity, and inclusion in education and certainly aligns with our goals as an organization.
While significant progress has been made, there is still much work to be done to achieve universal education for all girls. For Children Believe, Malala's legacy serves as a reminder that we must continue to advocate, invest, and create supportive environments that prioritize girls' education. Girl's education is not only an investment in her future but also in the progress and prosperity of society as a whole.
Malala's voice reminds us that every child, regardless of gender, deserves the opportunity to learn, grow, and contribute to society. As we reflect on her incredible achievements, let us draw inspiration from Malala's unwavering determination and work together to create a world where education is a fundamental right for all.
Children Believe works globally to empower children to dream fearlessly, stand up for what they believe in — and be heard. For 60+ years, we've brought together brave young dreamers, caring supporters and partners, and unabashed idealists. Together, we're driven by a common belief: creating access to education — inside and outside of classrooms — is the most powerful tool children can use to change their world.