POSTED February 21, 2019
Men in rural Ethiopia reassess their roles
A CCFC project is encouraging men to get involved in their children's lives
By Semereta Sewasew, communications manager, Ethiopia
Men in certain rural communities in Ethiopia used to have minimal involvement in maternal and child health, but that is changing. Some are seeing how supporting their pregnant wives provides emotional support while nurturing their baby's development.
Christian Children's Fund of Canada (CCFC) is contributing to this change through the Canada-Africa Initiative to Address Maternal, Newborn and Child Mortality (CAIA-MNCM) project.
We understand rural Ethiopian men are the decision-makers in the household — determining everything from contraceptive use and accessing maternal healthcare services to food, workload and other activities. So, CCFC, through its CAIA-MNCM project, is working to encourage greater involvement of men in healthcare.
Hussein is a great example of that. The father-of-two's perspective on family life changed after taking part in regular training and community conversations. "I used to think it was my wife's duty to take care of the children and household chores," explains the farmer. "I supported traditional practices such as … female circumcision, which is harmful to the health of the infant."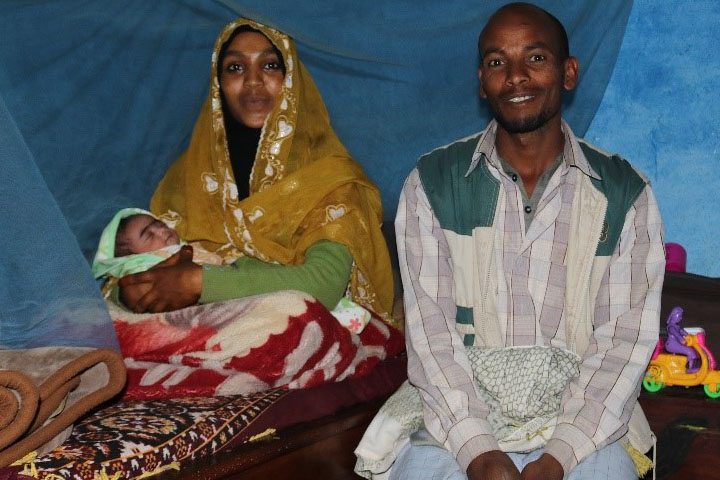 So far, more than 6,500 community members have attended the community conversations, which encouraged Hussein's support of his wife during her pregnancy and the birth of their second child.
"I am truly a changed man," he says. "I now help my wife fetch water and firewood. I also accompanied her on visits to [the health centre] during her pregnancy. After the birth, my wife and I agreed our daughter would not be circumcised. Today my family is very happy and healthy."
Hussein's wife, Aminat, agrees much has changed. "Hussein has become a remarkable husband. He is very loving and caring towards me and the children," she says. "He also spends a lot of his spare time with us. This is giving me so much joy."
CCFC, through the CAIA-MNCM project, has trained more than 1,245 people in gender equality and 1,734 people on the benefits of receiving maternal and child-health services. As a result, families are adopting more equitable gender roles — making decisions together and sharing household duties, which is leading to healthier relationships and cultural practices.
Check back for more success stories about CAIA-MNCM, which runs until 2020.
About Canada-Africa Initiative to Address Maternal, Newborn and Child Mortality (CAIA-MNCM):
The Canada-Africa Initiative to Address Maternal, Newborn and Child Mortality is a partnership among four Canadian organizations — Amref Health Africa, Children Believe, Centre for Global Child Health at The Hospital for Sick Children (SickKids) and WaterAid Canada. With support of $24.9 million from the Government of Canada (85 percent of the total project budget), this four-year project (2016 to 2020) aims to directly reach 1.7-million women, children and men across 20 districts in Ethiopia, Kenya, Malawi and Tanzania. The partners are working together with African communities to improve the delivery of essential health services to moms, pregnant women, newborns and children under the age of five; increase the use of these improved health services; and improve the consumption of nutritious foods and supplements.
Children Believe works globally to empower children to dream fearlessly, stand up for what they believe in — and be heard. For 60+ years, we've brought together brave young dreamers, caring supporters and partners, and unabashed idealists. Together, we're driven by a common belief: creating access to education — inside and outside of classrooms — is the most powerful tool children can use to change their world.