POSTED October 18, 2017
Paraguayan girls experience a day in the life of CCFC leaders
A day designed to empower girls to believe in their potential had a bigger impact than expected
By Rosanna Menchaca, communications manager, Paraguay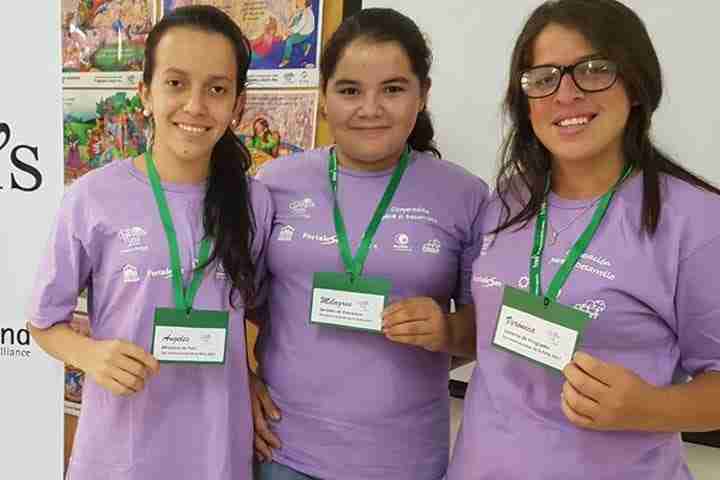 "We girls can do so many things," said Ángeles, a 16-year-old youth leader who become our country director in Paraguay for the day in an event designed to celebrate girls' rights and highlight the unique challenges they face around the world as part of the International Day of the Girl Child.
It was an "incomparable experience," said the teen, one of three girls from communities where Christian Children's Fund of Canada (CCFC) works, who took part in the special day. Verónica and Milagros joined Ángeles as the program manager and sponsorship manager, respectively.
CCFC collaborated with Plan International for the #GirlsTakeOver campaign. The goal was to highlight the importance of equal opportunities for girls in Paraguay. Girls stepped in as ministers, CEOs, directors and managers to learn they can be leaders.
At CCFC, Angeles, Veronica and Milagros spent time learning and talking about child-protection and child participation.
"I loved everything we did today," said Milagros, 14. "We met new people. We talked about child violence and what we do in our community." And, there was more: "In my role, I gave a salary increase to my team," joked the teen.
The experience was also special for Verónica. "Before I did not think like I think today.  While I was attending the meetings and participating in … activities, I was shown what participation means and learned about protection of rights for children and adolescents," said the 17-year-old. "We girls do not have to believe we are less, we must fight for gender equality in the country and in the world. We are [as] capable as" anyone else.
Jorge Méndez Rheineck, CCFC's country director in Paraguay, also highlighted the importance of empowering girls to work with community leaders. "Authorities need to establish a relationship with adolescents," he said, adding, "If groups and networks protecting children against violence are consolidated, we can achieve better results."
It was an empowering day for CCFC staff, too. By listening to young leaders like Angeles, Verónica and Milagros, we have an even greater understanding of how supporters are making a difference in the lives of these children, their families and the communities where we work.
"Before, [taking part in CCFC programs], I was so shy. I didn't talk much. Now, I now can't stop talking," said Milagros, smiling with satisfaction and lighting up the faces of each staff member, as the day ended.
For more photos and stories from #GirlsTakeOver, visit CCFC Paraguay's Facebook page.
Children Believe works globally to empower children to dream fearlessly, stand up for what they believe in — and be heard. For 60+ years, we've brought together brave young dreamers, caring supporters and partners, and unabashed idealists. Together, we're driven by a common belief: creating access to education — inside and outside of classrooms — is the most powerful tool children can use to change their world.