POSTED August 30, 2022
How solar panels at banks are improving lives in rural India
Villages in India are addressing climate change and improving access to financial services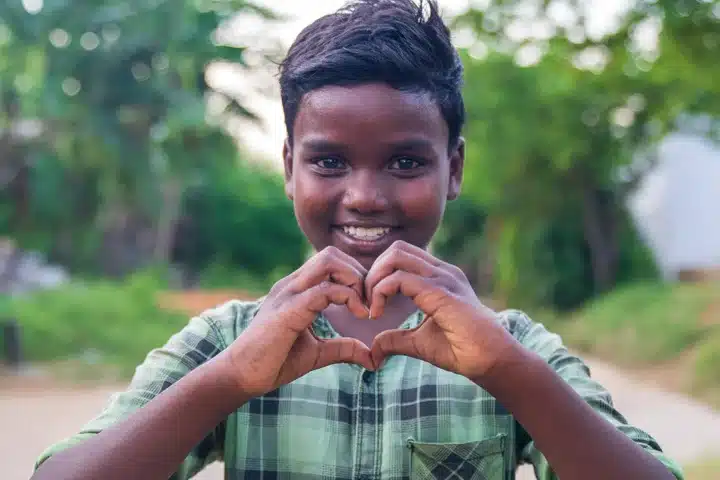 The power supply in rural communities in India is changing, helping neighbours and the world. This is thanks to solar panels, which are simultaneously cutting carbon emissions and improving community services, reports Thomson Reuters Foundation. 
More than 900 solar panel systems now power rural banks in India, introducing more than six-million people to formal banking.
The change has had a big impact on communities, which no longer have to worry about delays in everything from the payment of pensions to student scholarships.
Meanwhile, the environment is benefiting tremendously from the change. The solar systems installed at banks around India are cutting about 3,000 tons of carbon emissions annually, Kakumanu Prathap Sagar, manager of operations at E-Hands Energy who installed the panels, is noted as saying by Thomson Reuters Foundation.
At Children Believe, we're addressing climate change through various initiatives around the world.
In India, we're developing land overtaken by weeds and using desilting tanks to clean water for agriculture. We're also creating an android app for youth with tips on living a low-carbon lifestyle and building climate resilience.
You can help communities go green by giving an environmentally friendly gift through our gift catalogue today.
Children Believe works globally to empower children to dream fearlessly, stand up for what they believe in — and be heard. For 60+ years, we've brought together brave young dreamers, caring supporters and partners, and unabashed idealists. Together, we're driven by a common belief: creating access to education — inside and outside of classrooms — is the most powerful tool children can use to change their world.
About ChildFund Alliance:
A member of ChildFund Alliance, Children Believe is part of a global network of child-focused development organizations working to create opportunities for children and youth, their families and communities. ChildFund helps nearly 23-million children and their families in 70 countries overcome poverty and underlying conditions that prevent children from achieving their full potential. We work to end violence against children; provide expertise in emergencies and disasters to ease the harmful impact on children and their communities; and engage children and youth to create lasting change and elevate their voices in decisions that affect their lives.