POSTED August 29, 2022
Join the kids on their "long (summer) vacation" in our Ghana program
Discover ampe, football and folklore — favourite pastimes during summer school break
By William Anim-Dankwa, communications manager, Ghana
It's 10 a.m. in a small Ghanaian village. 
Under an overcast sky, goats and sheep stand quietly in the corner of Baba Musah's house. The animals look up as Fatimah, Baba Musah's daughter, and several other girls appear and begin to clap.
"It's my turn," says one girl.
"I'm the leader," shouts another.
Early morning play, after chores, is a daily ritual during summer holidays in Ghana. Here it's called "long vacation," since it's the longest school break. It's a time games get passed down from generation to generation, including a popular indigenous game, called ampe.
As the girls start to play, the leader and a second player jump simultaneously, clap and thrust a foot forward. When the feet differ, the leader gets the point. "I won, I won!" shouts the victor. When the feet match, the leader is out, and a new player joins.
Down the street, boys start a game of football (soccer in Canada). In Ghana, actual soccer balls are considered a special find. So, children often use any round object they can find, even tying strips of cloth together. Games are played on streets, on dirt, sand or stones. And, matches don't end until mothers call out to the players to start their afternoon chores or run errands.
Other popular activities during long vacation include hopscotch and draught, a game of strategy similar to checkers, played with marbles on a board.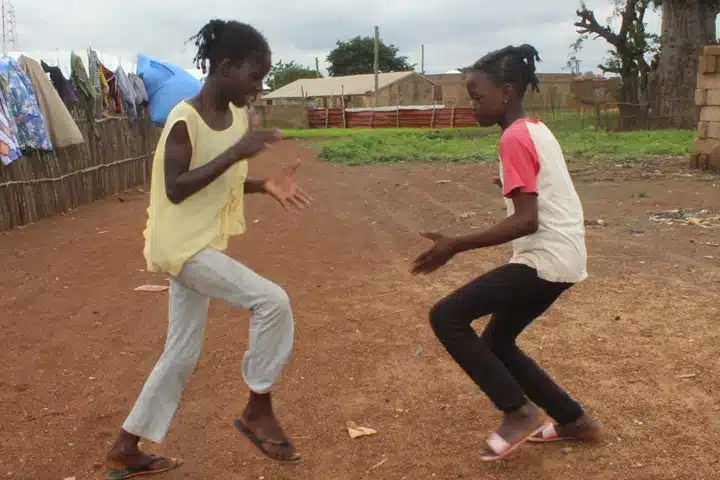 When the children take a quick break, they're happy to share what they think of summer pastimes.
"I love to play," says Abu, 8. "All the games help me to become smart and tough. My favourite is football."
Fatimah, 12, chimes in: "Though my hands get dirty, I like playing with my friends. My favourite game is hopscotch. Sometimes I meet new friends who have come into the neighbourhood, making me happy."
As the sun steadily rises to midday, the boys continue playing across the compound, often calling out, "Pass me the ball!" Cheers fill the field when players score through two stones placed apart to form goal posts. Another player shouts, "Goalllllllllllll!" The little ones, happy to watch along the sidelines, raise their hands, celebrating.
The girls down the street switch to playing hide-and-seek, a game often saved for the night.
Before bed, the children may gather to tell folktales, delighting in sharing the escapades of mischievous characters.
Rooted in Ghana's oral culture and traditions, the stories warn children not to be naughty, like the story of Ananse who disobeyed his parents and picked nuts from other people's farms. His punishment? He got trapped by a dwarf in the bush. While listening, many fall asleep after a long day of play.
You can help more kids go to school and enjoy their long summer vacation in Ghana (and around the world). Sponsor a child today.
Children Believe works globally to empower children to dream fearlessly, stand up for what they believe in — and be heard. For 60+ years, we've brought together brave young dreamers, caring supporters and partners, and unabashed idealists. Together, we're driven by a common belief: creating access to education — inside and outside of classrooms — is the most powerful tool children can use to change their world.
About ChildFund Alliance:
A member of ChildFund Alliance, Children Believe is part of a global network of child-focused development organizations working to create opportunities for children and youth, their families and communities. ChildFund helps nearly 23-million children and their families in 70 countries overcome poverty and underlying conditions that prevent children from achieving their full potential. We work to end violence against children; provide expertise in emergencies and disasters to ease the harmful impact on children and their communities; and engage children and youth to create lasting change and elevate their voices in decisions that affect their lives.