POSTED February 2, 2022
A teen leader shares how he's keeping kids safe in Ghana
How a Children Believe-supported club is building confidence and changing mindsets
By Brianne Binelli, digital content  services manager, Canada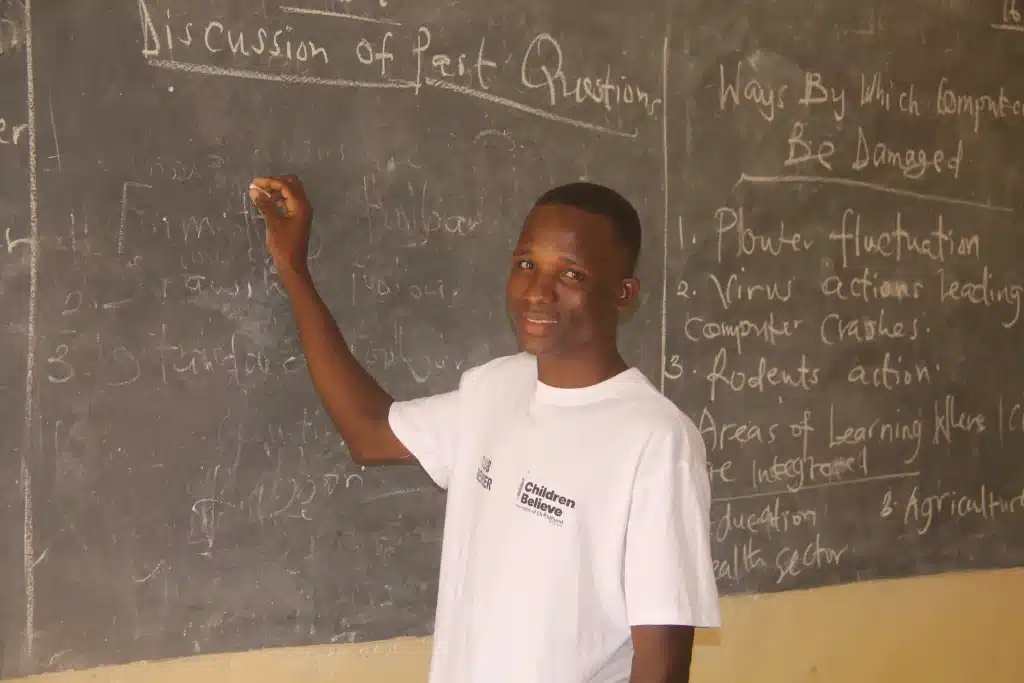 Mohammed is proud of what he's accomplished, and he should be. 
The 17-year-old from Pusuga in Ghana is the first in his family to attend senior high school, and he's taking a big role in making change in his community as the leader of a Children Believe-supported child-friendly accountability (CFA) club. In that role, he empowers kids to speak up against abuse and neglect, while winning the attention of adults who can uphold children's rights.
Join us as the aspiring nurse shares more about his journey — from facing hunger and challenges getting to school to securing school fees and other life essentials through his Children Believe sponsorship.
Tell us how you got involved in shining a light on abuse in your community?
My actions were inspired by my passion to draw the community's attention to the harm they cause children by abusing and neglecting their responsibilities to us.
In my community, there used to be many children who complained about not been fed before they got to school, not getting the support they need, parents taking children to the farm when they should be in school — and sometimes abused them for minor offences. Parents seemed to care more about their small businesses than their children.
How did you help your peers keep safe?
I (directed) children in the child-friendly accountability club in a play to educate parents about how to care for their children. (It addressed) the pain and frustration children go through when they feel neglected. We showed how important it is for parents to visit their children in school to find out how they're doing, (meet) their teachers and learn what school supplies they need. We even showed how neglect can lead to teenage pregnancies.
I am proud I can change the minds of parents in my community.
What have you learned through the CFA club?
The club's activities have helped me realize my dream to change the behaviours of some parents in my community.
How else has Children Believe helped you?
Through Children Believe, I benefited from school supplies and good classrooms. I am very grateful for the support and encouragement.
God bless my sponsor and all donors.
Children Believe works globally to empower children to dream fearlessly, stand up for what they believe in — and be heard. For 60+ years, we've brought together brave young dreamers, caring supporters and partners, and unabashed idealists. Together, we're driven by a common belief: creating access to education — inside and outside of classrooms — is the most powerful tool children can use to change their world.
About ChildFund Alliance:
A member of ChildFund Alliance, Children Believe is part of a global network of child-focused development organizations working to create opportunities for children and youth, their families and communities. ChildFund helps nearly 23-million children and their families in 70 countries overcome poverty and underlying conditions that prevent children from achieving their full potential. We work to end violence against children; provide expertise in emergencies and disasters to ease the harmful impact on children and their communities; and engage children and youth to create lasting change and elevate their voices in decisions that affect their lives.