POSTED May 17, 2017
Winnipeg supporters hear about positive change for children
CCFC staff share how donors are transforming communities around the world
By Jennifer Babbs, major gift manager, Canada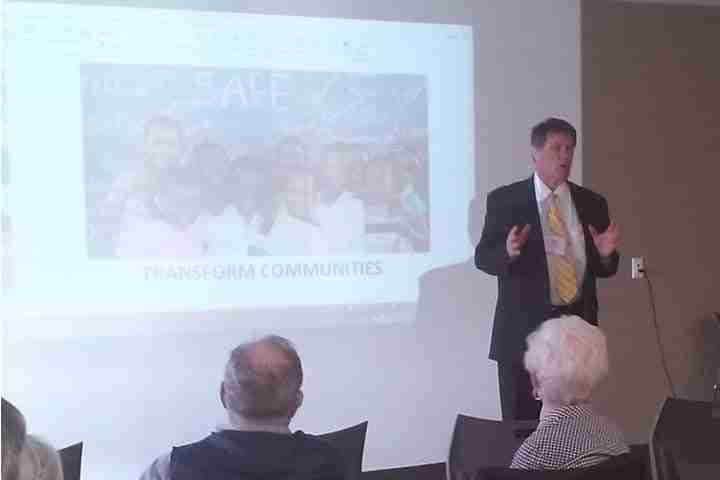 WINNIPEG — Supporters and guests came together yesterday to hear the impact Christian Children's Fund of Canada's (CCFC) Transform Communities initiative is having in countries around the world. It was CCFC's first event in Winnipeg.
"It is a pleasure to be in Winnipeg tonight and to meet our supporters face to face," said Mark Klintworth, director of fund development. "This is the first time we have met our donors here as a group, and we are very excited to have this opportunity to inform them about the tremendous impact Transform Communities is making on children and families."
Transform Communities creates a lasting impact through education, clean water and sanitation, health and nutrition as well as sustainable livelihood. Each priority area supports the other.
Guests learned how the community of Surangudi in India benefited from access to clean water with the repair of a rainwater storage pond and installation of water taps; improved healthcare through solar-powered electricity at the health centre; and better hygiene with the installation of 100 private latrines.
Meanwhile, supporters were invited to lift a five-gallon jug of water to understand the challenges of walking great distances, along isolated paths, to collect the life source. They learned such a task is a reality for many children, especially girls.
Donors went home knowing they're helping CCFC make lasting social impact, supporting communities on their journey to become self-sustaining.
To learn more about Transform Communities, visit our webpage devoted to the initiative.
Children Believe works globally to empower children to dream fearlessly, stand up for what they believe in — and be heard. For 60+ years, we've brought together brave young dreamers, caring supporters and partners, and unabashed idealists. Together, we're driven by a common belief: creating access to education — inside and outside of classrooms — is the most powerful tool children can use to change their world.