POSTED May 12, 2023
Girls gaining the skills to succeed
Francis, 18, is a lawyer in the making thanks to entrepreneurial training she received to help her overcome poverty and gender discrimination in a rural community in Nicaragua.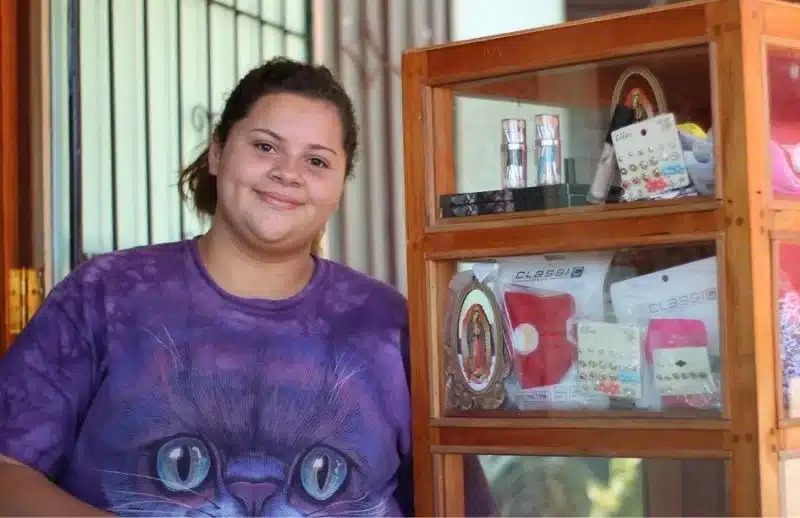 The "Girls-7" Series: Francis in Nicaragua
Seven girls overcoming discrimination, deprivation and even danger, in seven different places. They share a common courage: to dream fearlessly in the face of adversity. They are examples of the importance of education, which offers a lifeline to safety today and the hope for a better future tomorrow, for both them and their community. This month in response to the G7 summit, Children Believe is calling on global leaders to create greater educational access for girls as a key solution to many major global challenges, not a problem to be fixed.
Francis is a shining example of what is possible when young women gain access to opportunities, and her story is a testament to what can be achieved through hard work, determination and self-belief.
Growing up in a farming community in Nicaragua, Francis' dream of becoming a lawyer might have seemed impossible because of her family's limited financial means to support her pursuit of a university education.
"My friends and neighbours always used to tell me no, that I was not going to be able to do it, that I was insane and I shouldn't invest (in myself)," she explains. "Most of the time I did not receive support from outside. But my family has always encouraged me, telling me that I can do it. And I believed it!" 
But Francis took matters into her own hands when she was given an opportunity to participate in a business training program in her community, offered through Children Believe. After successfully completing her business courses, she became an entrepreneur, selling products online for women and children from her home. The program has also enhanced her leadership skills, time management and small business management. Having graduated from high school with a vocational training course in gourmet baking, she continues to build on her skills and open new doors for herself.
"As a woman, I would like to learn everything I can, so I can seize on opportunities that arise," she says. "This way women don't have to depend on anyone. If women are empowered and aware, we can make all of our dreams come true." 
Growing up in a rural community, Francis has always known how to run a farm and manage livestock. And with her new business skills, she now helps her family in the production of dairy products that she sells in the community. Thanks to money from her online store, she has also been able to invest in some cows to generate additional income and build her economic independence.  To top it all off, her baking business is growing in popularity which is providing yet another steady source of income.   
Francis is now a member of a rural women's organization that promotes educational spaces for other women. And she is proud of how she her relationship with her family is so positive, today.  
"Now I am an independent person and no longer a burden to my family," she says. "I cover my school expenses and I help support my family with household expenses." 
That once impossible dream of becoming a lawyer is now quite possible. And she hopes to inspire her younger sister and other woman in her rural community to follow their own dreams and not allow others to convince them they are not capable. 
The project is part of Children Believe Nicaragua's efforts to be a Centre of Excellence in gender equality and economic empowerment of women and girls. The work helps reduce the gender gap to ensure equal opportunities for young women.
The critical need for education
The latest research shows that if all the world's children received 12 years of education, their combined lifetime earnings would double to $30 trillion USD globally. Children like Francis have the strength and resiliency to overcome the darkest challenges in order to dream fearlessly and build a new future. Children Believe is part of a global movement asking for Canadian and global support at the G7 summit to help 40 million more girls gain access to education.
Learn how you can help empower more young women like Francis to not just survive, but thrive.