POSTED March 30, 2020
Hope is possible for displaced families we help in Burkina Faso
Learn how girls and women have recovered their ability to dream for a better future
By Christelle Kalhoulé, director, West Africa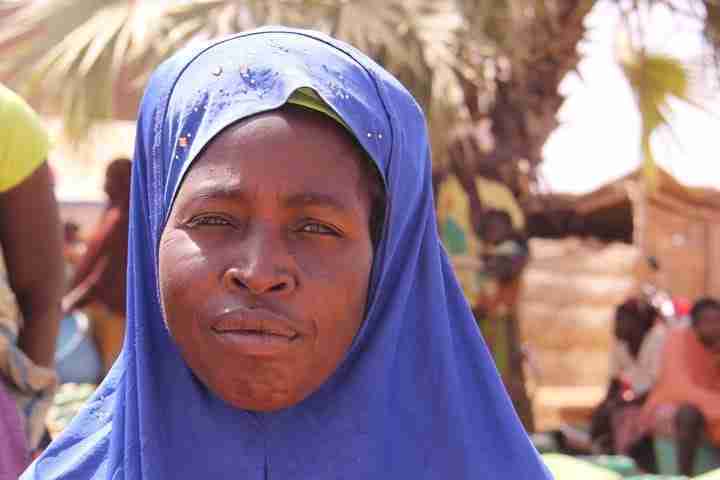 Aminata*, a 34-year-old mother-of-three who was forced from her home following attacks by radical groups, brings her children to our child-friendly space in the city of Kaya, Burkina Faso. I meet her as she comes to fetch water from a new water borehole.
I can hear the melancholy in her voice as she explains her story. "We were living in Zekia. When the unidentified gunmen came to the village, opened fire, killed many people, burnt the village school and left with cattle," she begins. "My brother-in-law was killed. We fled to Silmagui, thinking we were safe there, but we were soon forced to run again when that village was also attacked. This time we came to Kaya."
For more than five months Aminata and her children have been running to save their lives. She's thankful to God to they're still alive. But the young mother is traumatized and wonders how long they'll keep running from one place to the other. What will happen to her and her three kids?
Unfortunately, Aminata has no news about her husband, either. With a trembling voice, she says, "I have not heard from him for a couple of months. I pray to God he is still alive and he will soon join us."
Initially, the family found refuge in a Kaya camp, but after a few weeks without income, Aminata's husband left to find work at a traditional gold mine. These mines don't offer much protection to miners and are the site of regular attacks, but what else could he do?
Sadly, this type of story has become common. Insecurity in Burkina Faso has drastically increased during the past two years. Armed opposition-group attacks have compelled many to leave their villages and seek refuge in neighbouring regions.
The United Nations Office for the Coordination of Human Affairs reports more than 600,000 people were internally displaced as of last month — 58 percent are children. And, more than 2,400 schools have been closed, depriving more than 315,000 children of an education. Meanwhile, 1.2-million people face food insecurity.
Aminata repeatedly wonders what her family has done to deserve this life. I don't have an answer for her, but I'm glad we can help by providing a safe place for her children to play and learn.
Children Believe is committed to bringing hope by offering assistance and services to internally displaced people, like Aminata. We focus our support on children, youth and women in the Eastern and Central-North regions in collaboration with UNICEF and other local partners.
In fact, earlier this month, 600 girls and women completed training in soap-making, dying, weaving and knitting.
We hope this will restore their dignity, keep their minds busy and help them begin small incoming-generating activities. In the coming weeks, they'll receive cash transfers and will be organized in savings-and-loans community groups to provide physical and emotional support. They'll also be trained in life skills, entrepreneurship, bookkeeping and coaching to start small businesses to serve the needs of internally displaced people.
Although there's more need than we can meet at once, our great team in Kaya are part of the solution. They're proud to have helped girls and women recover their smiles and ability to dream for a better future. We hope we inspire more partners to join us.
**Please note the program mentioned here is on hold, as there cannot be large gatherings at this time, due to the COVID-19 outbreak
*Name has been changed