POSTED December 22, 2022
How learning to knit is giving one girl hope for the future
Read about how Sohaibata — a teen Children Believe helps — is stitching together positive change after fleeing from unthinkable violence
By Karen Homer, interim director of communications, Canada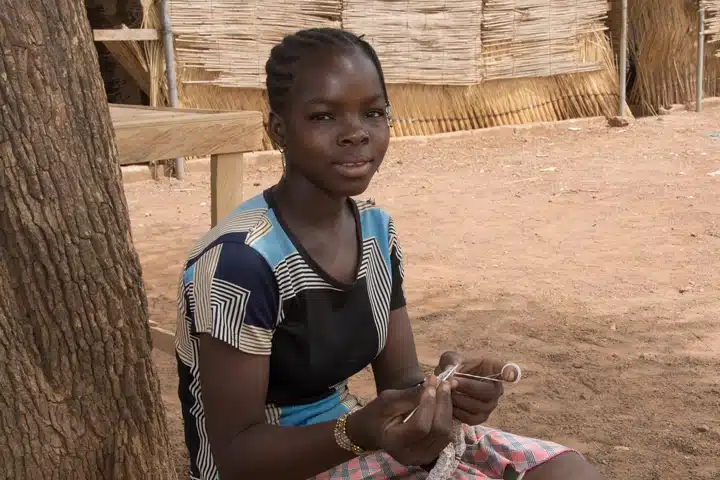 The rhythmic clicking of her knitting needles seems to soothe Sohaibata as the soft-spoken 14-year-old girl recounts her difficult story.
"Life in my village was beautiful," recalls Sohaibata, her eyes downcast, focused on the yellow ball of yarn in her lap that she is fashioning into a scarf. "My family raised animals, and we grew our food. My father was a farmer, and I used to walk in the hills with him. One day, when we can go back, I want to keep knitting and start a small business selling things."
Sohaibata is suitably proud of her new skill that she learned in one of Children Believe's 55 child-friendly spaces for displaced children and youth in Kaya, Burkina Faso. The scarf taking shape between her fingers symbolizes progress and hope for the future. For Sohaibata — who has never been to school and can't sign her name — her knitting is something to show for time lost during her family's year on-the-run after their community was attacked.
"The shooting started in my village at about 11 a.m.," says Sohaibata, her expression stoic. "We ran into the house, grabbed some clothes and our cooking pots and fled. I have a big family of about 15 people. We all escaped, except my uncle who stayed behind. People in a nearby village took us in, but soon the men came hunting for them, too. My family ran from village to village for almost a year until we ended up here in Kaya."
Sadly, Sohaibata's story is not unique. Of the 1.9-million people displaced in Burkina Faso, more than 60 percent are children. According to Children Believe research, one out of every two children in the six most affected regions have experienced or witnessed violence. Of these children, more than 80 percent are girls.
To begin to recover and regain a sense of normalcy, these children need psychosocial care and support, educational and recreational activities as well as protection services. Children Believe's child-friendly spaces are safe havens where children can play, learn and enjoy a sense of routine and stability — so critical for their long-term well-being.
In the centres, adolescents also learn vocational skills, such as sewing and carpentry, which are therapeutic as well as income-generating.
"I started coming to the centre for something to do. The teacher taught me and the other girls how to knit," says Sohaibata, holding up her finished yellow scarf with a satisfied smile. "Now I can make hats, scarves and shawls. I think I can sell them back in my village. I hope I can go home soon."
You can help children like Sohaibata — children whose lives have been forever changed by violent conflict. Help where the need is greatest through our Gifts for Good catalogue today.
Children Believe works globally to empower children to dream fearlessly, stand up for what they believe in — and be heard. For 60+ years, we've brought together brave young dreamers, caring supporters and partners, and unabashed idealists. Together, we're driven by a common belief: creating access to education — inside and outside of classrooms — is the most powerful tool children can use to change their world.
About ChildFund Alliance:
A member of ChildFund Alliance, Children Believe is part of a global network of child-focused development organizations working to create opportunities for children and youth, their families and communities. ChildFund helps nearly 23-million children and their families in 70 countries overcome poverty and underlying conditions that prevent children from achieving their full potential. We work to end violence against children; provide expertise in emergencies and disasters to ease the harmful impact on children and their communities; and engage children and youth to create lasting change and elevate their voices in decisions that affect their lives.