POSTED May 12, 2023
One girl's bravery changes a village
At just 15, Geetha chose a tough path. She desperately wanted to stop her parents from arranging her marriage as a young girl, but she needed help to stand up for her rights, continue her education and pursue her dreams
By Siju Mathew and Jins Joseph, Children Believe India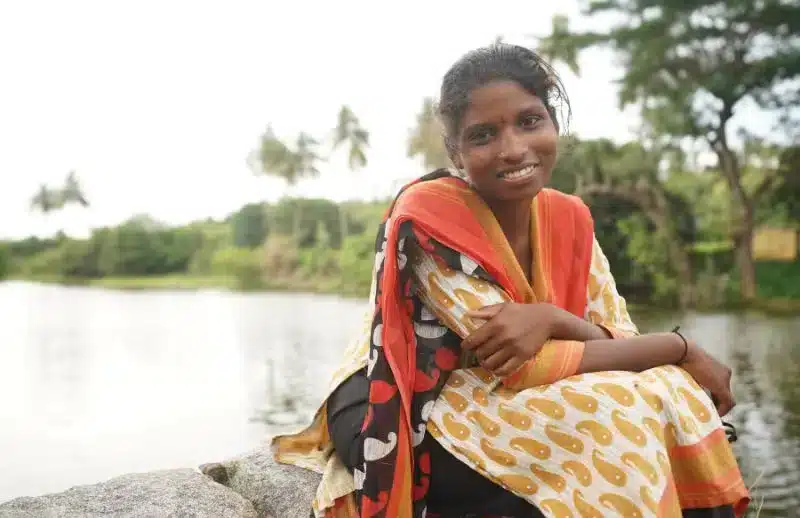 The "Girls-7" Series: Geetha in India
Seven girls overcoming discrimination, deprivation and even danger, in seven different places. They share a common courage: to dream fearlessly in the face of adversity. They are examples of the importance of education, which offers a lifeline to safety today and the hope for a better future tomorrow, for both them and their community. This month in response to the G7 summit, Children Believe is calling on global leaders to create greater educational access for girls as a key solution to many major global challenges, not a problem to be fixed.
Living in a remote forest-based tribal village in central India, Geetha's parents were intent on following a longstanding traditional path for their daughter, which calls for a girl of 15 to stop school and be married. Additionally, their reliance on day labour added to the financial pressures that force girls to be married too soon and their illiteracy limited their understanding of the harmful physical and emotional effects.
To prevent her impending marriage, Geetha decided to join a youth group run by a Children Believe partner, Rural Organization for Poverty Eradication Services (ROPES) which raises awareness and works with police to enforce child marriage laws. Through the program, Geetha's parents learned that their decision to marry her too young was against the law. They received counselling, and eventually agreed to sign a promise they would not break the law.
To support the family to overcome the additional economic hardship, Geetha's family also received supplies and a sustainable kitchen garden. ROPES also started a wider village development committee to educate local families about the law and the harmful effects of illegal cultural practices like forced marriage on children.
Now 22, Geetha has completed her Bachelor's in Commerce and embraced her passion for service. As a volunteer in her village, she helps in a decentralized government satellite office that provides welfare and other services. And, she has joined ROPES as a Creative Learning Centre Facilitator for her village. This role has set the stage for her dream of becoming a teacher.
"Now in our village, all of the children go to school," Geetha proudly states. "Before, due to economic problems, few transportation options, and an unsafe path through forested areas on a 6-km walk to school, it didn't happen."
Geetha's bravery has sparked lasting change in her tribal community, it's now been five years since a forced marriage has taken place.  Her story is a strong example of how holistic development programs initiated by Children Believe and ROPES helps keep children, particularly girls, stay in school as an effective way to end child marriage.
The critical need for education
The latest research shows that if all the world's children received 12 years of education, their combined lifetime earnings would double to $30 trillion USD globally. Children like Geetha have the strength and resiliency to overcome the darkest challenges in order to dream fearlessly and build a new future. Children Believe is part of a global movement asking for Canadian and global support at the G7 summit to help 40 million more girls gain access to education.
Learn how you can help empower more young women like Geetha to not just survive, but thrive.
Geetha's story: a journey from (near) child bride to university student 
Geetha:
My name is Geetha, I live with my mother and father. I have an older sister who is married. My father works as a labourer, and my mother does seasonal work. She is usually at home when she can't find any work.
Chinamma (Geetha's mother):
My oldest daughter's name is Latha. She finished Grade 6. When she reached puberty, at age 12, we had her marry, as we couldn't afford to keep her in school. As per our tradition, we decided our younger daughter (Geetha) should marry as well.
Lavanya Kesavaraj:
Child marriages are very prevalent in Andhra Pradesh, particularly in the Bangarupalyam block, where we work. Most importantly, as we work with tribal communities, there is existing cultural practice of girls getting married early.
Sree Latha:
Many families think that it is not safe to send girls to other villages or other places for education. And when she (Geetha) was 15 years old, studying in 10th Grade, her family arranged a marriage for her.
Geetha:
I was very sad my parents forced me to drop out of school. I told my friends and teachers I did not want to get married, that I would rather study and continue my education.
I also sought help from my neighbours and sister to convince my parents to let me stay in school.
However, my parents didn't listen to anyone and were determined to have my married, because I'm a girl.
I am an active member of the Village Development Committee as well as the Youth Club. Every month, we conducted meetings where we learned about and discussed child marriage and other village-related issues.
I was hopeful if I approached them, they would stop my marriage. So, I reached out to them for help.
Bharathi:
Geetha approached us and said: "I am not interested in marriage; they're forcing me to get married, but I want to study." Everyone in the village met to discuss this, and together we informed the Asha workers, the Angawadi workers and the Sarpanch about the planned child marriage for Geetha. Together, we stopped the marriage and sternly told Geetha's parents that she should not be forced to marry at such a young age.
Sree Latha:
We have counseled the parents, and we re-enrolled the child (Geetha) in school in 10th Grade. After that, she continued her education. She is working as a volunteer
also, developing her own village, her own community.
Geetha:
Through this job, I want to do good things for the development of my village. I've mobilized and helped people by connecting them to relevant government programs and benefits they're entitled to. I also chose this job to support my father financially.
Lavanya Kesavaraj:
Children Believe and our program partners have been engaged [in] working with communities, with young people, women and girls. Through various interventions, there are 50 or more villages that have absolved the practice of child marriages. There are several agents of change — girls emerging as agents of change. One such example is Geetha.
Geetha:
All girls should stand on their own two legs, know their rights and be able to continue their education. This is a suggestion I would like to give to ever