POSTED December 6, 2017
One year later: returning to a community in need
Rachel Bonnetta, one of our volunteer ambassadors, visits her sponsored child a year after she first met her in India
By Rachel Bonnetta, FOX Sports host and CCFC ambassador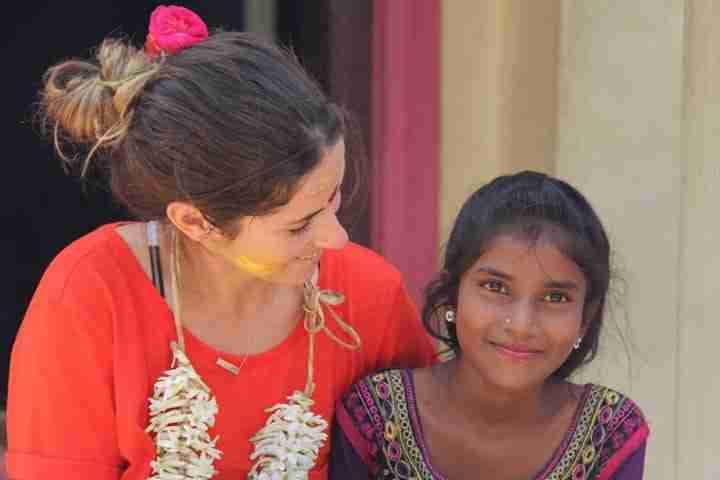 I met Glory a year ago on my very first trip to India.
When we arrived in her village of Thiruppair, we were welcomed with flowers, blessings and more flowers and blessings. Christian Children's Fund of Canada had just begun work in the community, and the people were so excited to meet us. We felt the same about them. They immediately began to speak at once.
One by one they told us issues they were facing. They didn't have clean water, toilets or nutritious food. What did they have? Disease, child marriages, the list goes on. It was awful.
I was trying to wrap my head around what it was like to live in Thiruppair, when a girl and her mother rose to speak. I later found out the girl was named Glory. I had seen her when we first arrived. Her friends tried to show me to dance, while she sat off to the side, too embarrassed to join us.
Back at the community gathering, Glory's mother began listing challenges her family faced. They were living in a tent. The girl's father was out of town, and her mother was struggling to fill their stomachs. Glory was obviously malnourished.
Later, we came up with a game plan to raise money, so the community would get clean water, toilets and gardens immediately instead of the 12 to 15 years it can take for a community to be more self-reliant and eventually graduate from support. The plan was to return in one year and see the transformation.
I boarded a flight back to Los Angeles with a heavy, but hopeful, heart. Christmas was days away. But, instead of enjoying the season, I thought about Thiruppair and Glory.
So, one day, I opened my computer and plugged in my camera. 'She has to be here somewhere,' I thought to myself. I clicked through a week's worth of videos and pictures, examining every child's face, looking for my girl. Then BOOM, I found her.
I had to zoom and crop, but I finally got a legible picture of her. I emailed CCFC right away asking if they could track her down. I wanted to help. Since then, I've been sponsoring Glory, and it's one of the best decisions I ever made.
So, the trip back to Thiruppair this year was especially exciting. I would actually get to hang out with Glory, meet her and discover other ways I can help. A year went by, money was raised, a clean-water system was installed, and I was packing my bags once again to head to India.
When we arrived in Thirrupair, my heart was pounding and my ears were ringing, I was so nervous. Maybe the thumping sound was the drums I could hear a mile away. It was the community welcoming us back! When I got out of the car, Glory was the first one I saw. She was in her best clothes with her hair tied back in a long braid. She was waiting for me with flowers.
During the next few days, I spent a lot of time with my sponsored child. She was still very shy, but I would catch her smiling and laughing while we played games. Her family is still struggling; her father returned home, but he didn't have a job, nor did her mother. I'm still looking for ways to help Glory but knowing she's in school and her family is doing better gives me some peace. After all, we can always do more, but we cannot do nothing.
I set out on this trip hoping to change lives, but, in the process, I realized my life was changing. Glory has shown me what strength looks like — for that I will be forever thankful.
If you have the opportunity to sponsor a child, please do. I promise you, it will be one of your best life decisions.
Children Believe works globally to empower children to dream fearlessly, stand up for what they believe in — and be heard. For 60+ years, we've brought together brave young dreamers, caring supporters and partners, and unabashed idealists. Together, we're driven by a common belief: creating access to education — inside and outside of classrooms — is the most powerful tool children can use to change their world.