POSTED May 24, 2023
Playing a whole new game
An innovative way of learning transforms education
By William Anim-Dankwa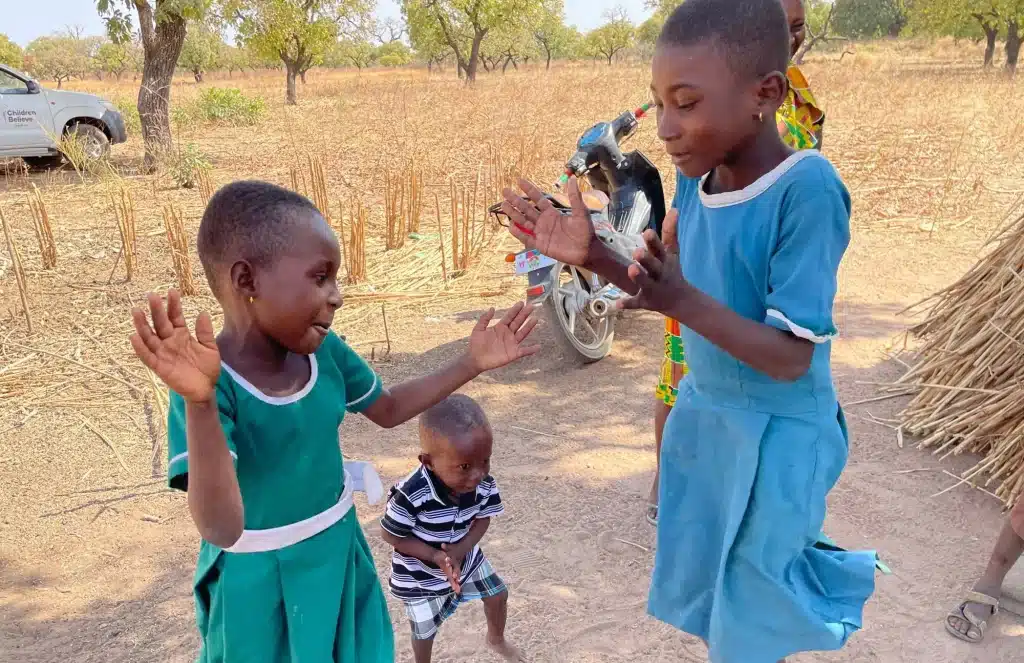 It is midday at Chongdema, a sprawling community in the Upper East Region of Ghana. The sun is hot and people sit under trees to find relief. At this time of day one might expect a sleepy silence, but in the home of one family, giggling and singing can be heard as children play happily with their parents.
Not an uncommon scene in Canada, maybe, but in Ghana, parents, particularly fathers playing with their children is not the norm. Cultural influences or traditional thinking label it a show of weakness for dad to "play" with children. The place of young children is with mothers, some say. But this is less the case in communities where Children Believe has implemented its transformational Learning Through Play (LTP) project. It's a proud accomplishment for the Ghana team, part of its Centre of Excellence initiative, where they are recognized as leaders in Early Childhood Care and Development (ECCD) in the country.
The family include father and mother, Eric and Ivy, and their five children, Awenayaame, Anambowena, Josiah, Gabriela and Beatrice. The young parents, 35 and 27 respectively, come from much larger families. Eric has eight siblings, while Ivy is one of 23. While she completed high school, Eric could not and became a farmer, cultivating crops and rearing some livestock. While the demands of their farm and faily make it difficult, Ivy still dreams of becoming a nurse.
Until she can, her family takes priority, and she has seen great improvement having been part of LTP.
"Initially, I did not understand the idea of learning through play, but as I went through the program, I have become confident in playing with children and caring for my baby," she explains.
Using the LTP manual is helping them to find new ways of engaging with their children as well as helping their children to learn colours, art, counting, interacting with other children, and singing. The program is finding success in increasing the bond between parents and children.
"I was reluctant to take part in the training, but decided to give it a try. It was at that point I realized my ignorance," Eric adds. "Now, the children can freely approach me and play with me."
Like much of Children Believe's work, it is part of a holistic approach to creating positive change, such as the behavior of men toward parenting roles. But the comprehensive work of this program also incorporates health, nutrition for other interventions as critical components towards child well-being.
Ivy is one of many women across a number of local communities who has been educated in infant care thanks to the implementation of programs run by Children Believe and its partners. The work focuses on the critical first 1,000 days of a child's life. With diet, nutrition, exercise and general health skills on the curriculum, Ivy says she much better prepared for delivering her second child. And LTP information impacted her husband's understanding of raising children.
"I now know how important it is for men to support their spouses when they are pregnant," says Eric.
According to UNICEF, it has been estimated that worldwide, 43 percent of children before age five are not achieving their full potential. The ECCD approach seeks to improve those numbers by promoting the five elements of 'nurturing care' for children: health, nutrition, early stimulation, learning opportunities, and protection. Without this, children's cognitive, language and psycho-social skills remain underdeveloped, leading them to perform poorly in school and most often drop out.
Last year, Children Believe's Ghana team worked with nearly 4,000 children in 45 centers where infrastructure, furniture, school materials and teacher training helped to create new opportunities to achieve better results. Along with Canadian sponsors, partner ChildFund Korea has come alongside Children Believe to fund and champion the Learning Through Play methodology. There has also been a concerted effort to bring government ministries such as health, education, and social protection to work together.
Training teachers to do their best work with current skills and methods is also critical to the process. Speaking to the impact this has had, Samuel Nguma, program officer for Children Believe's partner agency Participatory Alternative for Rural Development Actions, says he has witnessed great change.
"The children in these communities are learning to be assertive and confident in relating to their peers and teachers at school," he explains.
The experience of the teachers backs him up.
"I used to spend most of my time writing on the board and shouting at the children, which made them fear me," says Madam Rahamatu Musa, a teacher in Najupigu. "I now handle the children with ease, and my interaction with them has improved, as the children are now willing to trust me."
And so, parents and their children now find ways to better relate. The local team at Children Believe will continue to foster a positive learning environment filled with laughter and play for many more children in Ghana, just like what this family enjoys today.
Find out how you can help build and equip early learning centres with fun, interactive materials and train teachers to give children a bright start.
Children Believe works globally to empower children to dream fearlessly, stand up for what they believe in — and be heard. For 60+ years, we've brought together brave young dreamers, caring supporters and partners, and unabashed idealists. Together, we're driven by a common belief: creating access to education — inside and outside of classrooms — is the most powerful tool children can use to change their world.
About ChildFund Alliance:
A member of ChildFund Alliance, Children Believe is part of a global network of child-focused development organizations working to create opportunities for children and youth, their families and communities. ChildFund helps nearly 23-million children and their families in 70 countries overcome poverty and underlying conditions that prevent children from achieving their full potential. We work to end violence against children; provide expertise in emergencies and disasters to ease the harmful impact on children and their communities; and engage children and youth to create lasting change and elevate their voices in decisions that affect their lives.